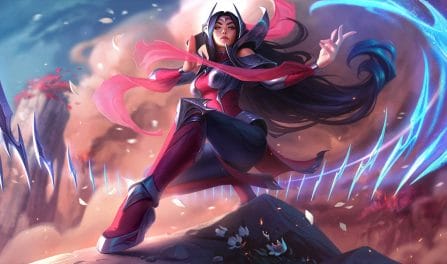 As melhores runas, itens e dicas para dominar seus inimigos
192,980 builds de Irelia analisadas
Melhores itens para build de

Irelia
The most important items to use in your Irelia build are: Goredrinker, Guardian Angel, Randuin's Omen, and Blade of The Ruined King. Moreover, like our rune builds, you can also find great, dedicated, Irelia item builds below for the specific enemy team composition you are battling in your current game. Players who included these pieces in their gear had a better win rate than players who tried for other Irelia builds.
Irelia

Items para derrotar composições de time específicas
Melhores runas para

Irelia

Conquistador

Triunfo

Lenda: Linhagem

Até a Morte

Entrega de Biscoitos

Calçados Mágicos
If you are playing a mixed enemy team composition, you should strongly consider getting yourself the Conqueror, Triumph, Legend: Bloodline, Last Stand, Biscuit Delivery, and Magical Footwear runes. In recent games, she won the greatest percentage of her games when equiped with these runes. Yet, if you are battling a more single focused enemy team composition, such as an AP focused or a tank heavy team, you should instead scrollbrowse further down to see the best Irelia runes to defeat your particular set of opponents.
Irelia

Runas para derrotar formações de time específicas

Conquistador

Triunfo

Lenda: Tenacidade

Até a Morte

Impacto Repentino

Caça Voraz
Guia para jogar com

Irelia
Dê harass em campeões inimigos usando Surto da Lâmina em um minions que vai morrer antes de iniciar.
Lâminas Trancendentais lhe deixa drenar a vida de inimigos enquanto corre.
Our Irelia builds come out of our analysis of 192,980 recently ranked Irelia games. Only the highest winrate Irelia builds that are also commonly used are recommended by us. Since we have so many rounds in our data, we are quite sure that we can show you the highest quality builds for Irelia to help you win your next round!
Additionally, to see Irelia builds specific to a particular skill level, choose a different rank from the dropdown menu located above. If you select a different division, the proposed Irelia build given will be based on that tier's meta.