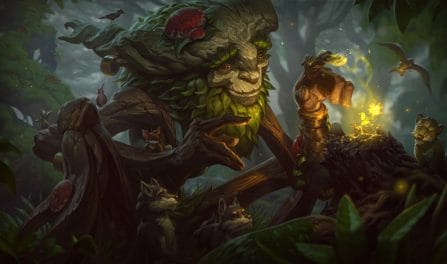 Estatísticas de Campeão e detalhamento de metagame do LoL
46,755 partidas com Ivern analisadas
These champ stats were computed using 46.755 recently played, ranked Ivern matches. MOBA Champion downloads ranked match data directly from Riot's own database. Having a large number of League of Legends rounds to evaluate gives us a lot of confidence in our capability to give you accurate Ivern statistics. He did do a good job in recent matches. He has an average win rate of 50.1%.
Ivern has been picked very little in the latest ranked LoL matches. In the current meta, his popularity is 1.6%. Hardly anyone sees him as a danger. He has only been banned in about 0.4% of League of Legends rounds.
Taxa de vitória de

Ivern

periodicamente
As a result of Ivern's K/D/A and utility, he has a fairly average overall win rate. He does very well in the late game, with a winrate of NaN% in that phase. Unfortunately, he does worst in the late game, where Ivern's winrate is NaN%., The difference between his best and worst game phases is a large NaN%. This sizeable difference indicates that his power spikes and wanes in different phases of the round. Prepare accordingly.
Estatísticas de posição de

Ivern
Ivern

Estatísticas e meta
You can find him most often laning in the jungle position. The top win rate position for Ivern is jungle ([object Object]%). Currently, Ivern's meta game is focused on dealing damage. In particular, his build should mostly be focused on magical damage. Furthermore, he is a decent tank champ. Dealing physical damage is the least significant part of Ivern's gameplay.
If you are not familiar with his abilities and gameplay, you may find it difficult trying him out for the first time. Many competitors believe him to be a difficult champ to master. Ivern mostly does magic damage (62% of his total damage). He also deals a significant amount of physical damage.
Ivern deals only a little damage in a typical match (8.256 damage). You shouldn't focus on developing him as a damage dealing champ to destroy your opponents. Rather, focus on supporting your teammates to come out on top.
Ivern Bramblefoot, conhecido por muitos como o Protetor Verde, é um peculiar meio-homem, meio-árvore que vagueia pelas florestas de Runeterra, cultivando vida por onde ele passa. Ele conhece os segredos do mundo natural, e cultiva amizades profundas com...
If you are looking for a dominating damage dealer, then you should definitely not consider this champ. He has one of the lowest kill counts in League among other champs. 'Moreover, he has a fairly typical death rate with an average of 4.6 deaths per League game. Moreover, Ivern has a high KDA ratio (3.2) with 12.4 assists.
Estatísticas base de

Ivern
Resistência mágica
32 - 32
Analisamos milhões de partidas do League of Legends extraídas diretamente dos servidores da Riot semanalmente e processamos os dados usando algoritmos avançados para oferecer as estatísticas mais precisas de Ivern on-line. Os dados são analisados por tier, de modo que você possa encontrar as taxas de vitória e outras estatísticas mais relevantes de Ivern.