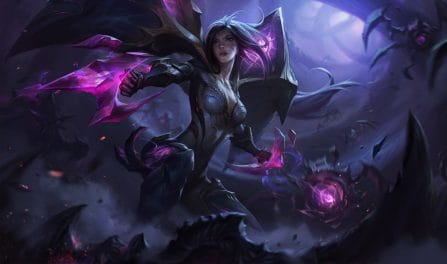 As melhores runas, itens e dicas para dominar seus inimigos
150,394 builds de Kai'Sa analisadas
Melhores itens para build de

Kai'Sa
The most critical items to include in your Kai'Sa build include: Kraken Slayer, Muramana, Phantom Dancer, and The Collector. Additionally, as with our rune recommendations, you can also find great, focused, Kai'Sa item builds farther down for the specific enemy team composition you are fighting in your current game. Those who included these items in their setups had a higher winrate than players who used other builds for Kai'Sa.
Kai'Sa

Items para derrotar composições de time específicas
Melhores runas para

Kai'Sa

Pressione o Ataque

Triunfo

Lenda: Espontaneidade

Golpe de Misericórdia

Entrega de Biscoitos

Tônico de Distorção no Tempo
If you are trying to beat a well-mixed enemy team comp, you should really consider grabbing yourself the Press the Attack, Triumph, Legend: Alacrity, Coup de Grace, Biscuit Delivery, and Time Warp Tonic runes. In recent matches, she won the largest fraction of her games when using these runes. However, if you are trying to beat a more homogenous enemy team composition, such as an AP focused or a tank heavy team, you should instead look further down to view the best Kai'Sa runes to defeat your particular enemy team.
Kai'Sa

Runas para derrotar formações de time específicas

Chuva de Lâminas

Gosto de Sangue

Globos Oculares

Caça Voraz

Dilacerar

Lenda: Espontaneidade
We established our Kai'Sa build suggestions by analyzing 150,394 recently ranked LoL games with her selected. We only recommend the best winrate Kai'Sa builds that were used by ranked players enough times for us to propose them. With so many matches in our data, we are very confident in our provided builds.
Additionally, Kai'Sa builds dedicated to a particular skill division can be displayed by selecting a different rank from the dropdown menu found above. The suggested Kai'Sa build shown will be specific to that division's meta.