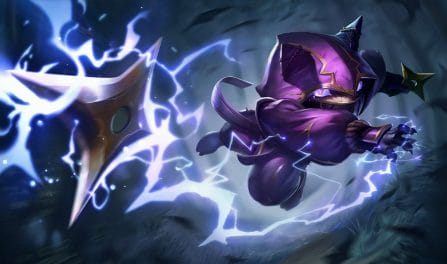 Os melhores Campões do LoL para sinergia e counterar Kennen
55,681 counters e matchups com Kennen analisados
To determine the greatest and worst counters for Kennen, we analyzed the scores of 55.681 recently finished, ranked League of Legends rounds. We determined which champs have the greatest and poorest win rates versus him. Furthermore, we found those few that are great teammates and who could help stop your champ from being beaten. Having examined so many rounds gives us a lot of certainty in our conclusions.
As you can see above, Nasus is the strongest challenger for Kennen with a 54.7% win fraction against him. Close behind, Irelia and Tahm Kench are the next largest counters to Kennen. They have win rates of 53.7% and 53.6%, respectively. You should not take him into a round where one of these champions has been picked.
On the other hand, if you are playing against Darius, you should expect to do much better. Kennen counters them with a much better win percentage of 54.4%. Likewise, you should expect to do very well against Jax and Fiora. They have the next poorest win rates against Kennen.
If you would like the best champ synergies for your own allies to advance your winrate more, take a look at our Kennen synergies below.
Regardless of his chosen position, he does admirably when paired with Blitzcrank. This combination usually improves his chances of winning by a few percent. Jarvan IV and Amumu are also superb champions to pair with.
To examine the details and best Kennen counter builds about a specific matchup, you can click the corresponding row in one of the tables above. If you are looking for some Kennen counters that aren't displayed here, you can click the button near the top of the page to browse them.
To narrow the Kennen counters to a particular skill level only, choose your chosen skill level from the dropdown above. The recommended champion counters and synergies will be updated.
Nós processamos milhões de partidas de League of Legends, extraídas diretamente dos servidores da Riot semanalmente. Analisamos os dados usando algoritmos avançados para oferecer os counters de Kennen mais precisos on-line.
Guia para counterar

Kennen
A Ult de Kennen mitiga dano em área massivo com um grande atordoamento. Ele é excelente em teamfights e torna difícil de lutar em espaços fechados, assim como nos arredores. Barão e Dragão. Kennen é forte contra campeões de busrt sucetíveis a controle de grupo.
Tente não se agrupar durante uma teamfight porque Kennen pode apanhar todo o seu time na área de efeito do Turbilhão Cortante se ele chegar ao centro.
Kenne é relativamente frágil e pode ser abatido rapidamente.