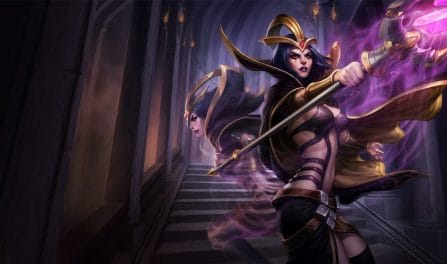 Os melhores Campões do LoL para sinergia e counterar LeBlanc
77,243 counters e matchups com LeBlanc analisados
To determine the greatest and worst counters for LeBlanc, we examined the outcomes of 77,243 recently finished, ranked League of Legends matches. We determined which champions have the greatest and poorest win rates against her. Furthermore, we determined those rare champs that are exceptional companions and who could help stop you from being countered. Having reviewed so many games provides us lots of faith in our conclusions.
As you can see above, Malzahar is the best to challenge LeBlanc with a 55.0% victory rate against her. Similarly, Brand and Trundle are the next scariest threats to LeBlanc. These two have win rates of 54.0% and 54.0%, respectively. You should not bring her into a match where any of these champions has been selected.
On the other hand, if you're playing against Azir, you probably should expect to do much better. Leblanc counters them with a solid win percentage of 56.0%. Likewise, you should anticipate doing very well when facing Taliyah and Qiyana. They have the next lowest win rates when trying to counter LeBlanc.
If you are interested in the best champ pairings for your own comrades to enhance your win percentage even further, glance at the champion synergies above. Regardless of her lane, she does best when alonside Zyra. This combination usually raises her average win rate by 4.0%. Xin Zhao and Swain are also great champs to team up with.
If you are looking to learn more about a specific LeBlanc counter, including the most desirable builds to employ in that situation, please click the related row in the tables above. If the particular LeBlanc counters you are trying to find are not avaialable below, you may view all possible counters at the above link.
Additionally, if you want to find LeBlanc synergies and counters for a specific rank tier, please feel free to select a different division from the dropdown above.
Nós processamos milhões de partidas de League of Legends, extraídas diretamente dos servidores da Riot semanalmente. Analisamos os dados usando algoritmos avançados para oferecer os counters de LeBlanc mais precisos on-line.
Guia para counterar

LeBlanc
Tente ficar atrás dos minions para evitar ser pego pelas Correntes Etéreas de LeBlanc.
Se você for acertados pelas Correntes Etéreas, corra para longe o mais rápido possivel, para minimizar as chances de ser enraizado dentro do alcance de dano adicional.
Com sua alta mobilidade, LeBlanc é forte contra a maioria dos inimigos que dependem de skillshots.