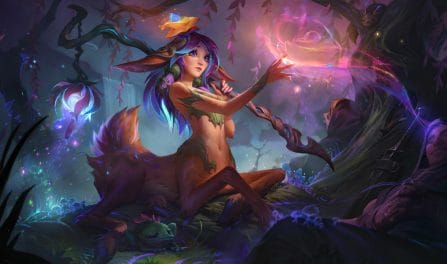 As melhores runas, itens e dicas para dominar seus inimigos
93,643 builds de Lillia analisadas
We calculated our Lillia build recommendations by analyzing 93.643 recently ranked LoL matches with her selected. We only advise the top winrate Lillia builds that were used by ranked players enough times for us to advise them. With so many matches in our data, we are very confident in our provided builds.
Additionally, to see Lillia builds customized to a particular division, pick a different rank from the dropdown menu found above. If you change the selection, the best Lillia build given will capture that tier's meta.
Melhores itens para build de

Lillia
The most essential items to use in your champ's build include: Angústia de Liandry,Capuz da Morte de Rabadon, and Ampulheta de Zhonya. Those who added these pieces in their setups had a better winrate than those who used other Lillia builds.
Yet, like our rune suggestions, you can also find quality, focused, Lillia item builds a little further down for the particular enemy team composition you are playing in your next game.
Lillia

Items para derrotar composições de time específicas
Melhores runas para

Lillia

Conquistador

Triunfo

Lenda: Tenacidade

Até a Morte

Transcendência

Caminhar Sobre as Águas
If you are trying to beat a well-mixed enemy team composition, you should strongly consider getting Lillia the Precisão, and Feitiçaria runes. In recent games, she won the greatest fraction of her games when using these runes.
However, if you are facing a singular enemy team composition, such as an AP heavy or a crowd control heavy team, you should instead scroll further down to get the best Lillia runes to win your particular game.
Lillia

Runas para derrotar formações de time específicas

Colheita Sombria

Gosto de Sangue

Globos Oculares

Caça Suprema

Manto de Nimbus

Celeridade