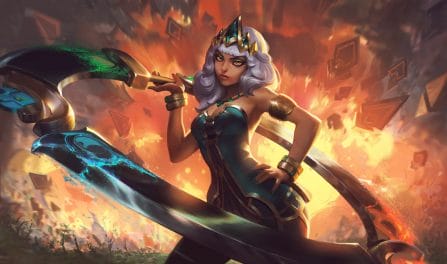 As melhores runas, itens e dicas para dominar seus inimigos
113,633 builds de Qiyana analisadas
Our Qiyana builds come from our examination of 113.633 recently ranked Qiyana matches. Only the top winrate Qiyana builds that are also in common use are suggested by us. Since we have so many games in our database, we are sure that we can show you top quality builds for i to help ensure you win your next round!
Additionally, to get Qiyana builds tailored to a unique skill level, choose your desired rank from the dropdown menu located above. In that case, the recommended Qiyana build given will be based on that division's meta.
Melhores itens para build de

Qiyana
The best items to include in your champ's build include: Garra do Espreitador,Anjo Guardião, and Presa da Serpente. Those who included these items in their builds had a much higher win rate than players who went for other item builds for Qiyana.
Additionally, like our rune builds, you can also get great, dedicated, Qiyana item builds farther down for the specific enemy team composition you are battling in your next game.
Qiyana

Items para derrotar composições de time específicas
Melhores runas para

Qiyana

Eletrocutar

Impacto Repentino

Globos Oculares

Caça Incansável

Presença de Espírito

Golpe de Misericórdia
If you are trying to beat a varied enemy team comp, you should really consider grabbing yourself the Dominação, and Precisão runes. In recent games, she won the greatest number of her rounds when built with these runes.
However, if you are trying to beat a singular enemy team composition, such as an AD centric or a tank heavy team, you should instead browse further down to see the best Qiyana runes to win your particular game.
Qiyana

Runas para derrotar formações de time específicas

Eletrocutar

Impacto Repentino

Globos Oculares

Caça Voraz

Até a Morte

Presença de Espírito