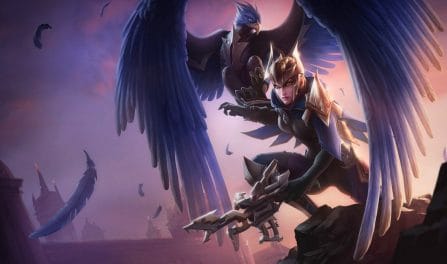 As melhores runas, itens e dicas para dominar seus inimigos
38,209 builds de Quinn analisadas
Melhores itens para build de

Quinn
The most important items to incorporate into your Quinn build are: Immortal Shieldbow, Infinity Edge, Lord Dominik's Regards, and The Collector. Furthermore, similar to our rune advice, you can also find great, dedicated, Quinn item builds below for the particular enemy team comp you are facing in your ongoing game. Players who included these pieces in their kits had a greater win rate than players who worked towards other Quinn builds.
Quinn

Items para derrotar composições de time específicas
Melhores runas para

Quinn
Pressione o Ataque

Triunfo

Lenda: Linhagem

Dilacerar

Tempestade Crescente

Celeridade
If you are playing a varied enemy team composition, you should strongly consider getting her the Press the Attack, Triumph, Legend: Bloodline, Cut Down, Gathering Storm, and Celerity runes. In recent games, she won the greatest fraction of her matches when equiped with these runes. Yet, if you are fighting a more single focused enemy team comp, such as an AP centric or a crowd control focused team, you should instead scrollbrowse a little below to find the best Quinn runes to defeat your particular enemy team.
Quinn

Runas para derrotar formações de time específicas
Pressione o Ataque

Triunfo

Lenda: Linhagem

Dilacerar

Manto de Nimbus

Celeridade
Guia para jogar com

Quinn
Após o nível 6, Retaguarda do Inimigo dá a Quinn uma mobilidade incrível. Use-a para se mover de lane em lane e ajusar seus aliados em outras rotas.
Uitilize Salto para dar lentidão ao inimigo e então combine-o com Investida Anuviante e autoataques para ativar Rapina.
Our Quinn builds result from our examination of 38,209 recently ranked Quinn rounds. Only the highest winrate Quinn builds that are also in common use are recommended by us. Since we have so many games in our data, we are very confident that we can show you high quality builds for Quinn to help ensure you win your next match!
Additionally, to see the top Quinn build from a different skill division, you can select a different skill tier from the dropdown menu above. The recommended Quinn builds will update to characterize that division's meta.