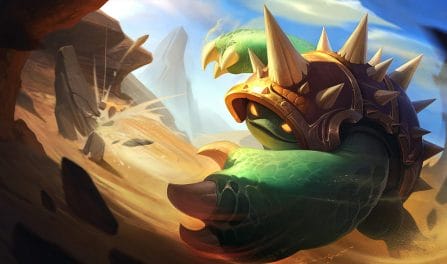 Os melhores Campões do LoL para sinergia e counterar Rammus
50,870 counters e matchups com Rammus analisados
To select the most and least favorable counters for Rammus, we examined the outcomes of 50,870 recently played, ranked League rounds. We found which champs have the best and worst win rates against him. Moreover, we extracted those select champions that are exceptional companions and who could help stop your champ from being beaten. Having reviewed so many rounds gives us a lot of confidence in our conclusions.
As you can see above, Wukong is the strongest to face off against Rammus with a 55.0% victory percentage against him. Similarly, Swain and Trundle are the next greatest threats to Rammus. These two champs have win rates of 54.0% and 54.0%, respectively. You should not bring him into a match where any of these champions has been chosen.
Conversely, if you are battling against Qiyana, you probably should expect to do much better. Rammus counters them with a very respectable win rate of 58.0%. Similarly, you can expect to do very well when battling Nidalee and Rengar. These champs have the next lowest winrates when trying to counter Rammus.
If you are looking for great champion synergies for your own comrades to help boost your win rate more, glance at our champion synergies above. Regardless of his lane, he does best when alonside Soraka. This pairing usually improves his chances of winning by 6.0%. Swain and Sona are also great champions to team up with.
To examine the details and best Rammus counter builds for a particular matchup, you should click the corresponding row in the tables above. If you are interested in specific Rammus counters that are not listed here, you can click the button near the top of the page to get them.
Additionally, if you need to get Rammus synergies and counters for a particular skill level, please feel free to pick an individual division from the dropdown menu above.
Nós processamos milhões de partidas de League of Legends, extraídas diretamente dos servidores da Riot semanalmente. Analisamos os dados usando algoritmos avançados para oferecer os counters de Rammus mais precisos on-line.
Guia para counterar

Rammus
Esconda-se atrás de minions para evitar ser atingido pela Bola do Poder.
Se Rammus focar em itens de armadura, priorize habilidades mágicas para abatê-lo.
Rammus pode refletir uma considerável quantidade de dano de volta para campeões AD com muita velocidade de ataque. Portanto, Rammus é forte contra a maioria dos ADCs. A melhor forma de proteger seus ADCs do provocar de Rammus é ficando entre ele e seu carry.