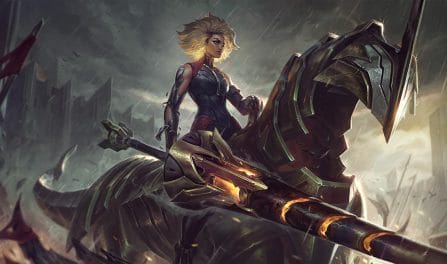 As melhores runas, itens e dicas para dominar seus inimigos
66,025 builds de Rell analisadas
We came up with our Rell build suggestions by examining 66.025 recently ranked League matches with her selected. We only propose the highest winrate Rell builds that have been used by ranked League players enough times for us to advise them. With so many rounds in our data, we are very confident in our recommended builds.
Additionally, to view the best Rell build designed for a different skill level, please choose a different one from the dropdown above. The ideal champion builds will change to characterize that skill level's meta.
Melhores itens para build de

Rell
The most essential items to include in your champ's build are: Medalhão dos Solari de Ferro,Bastião da Montanha, and Correntes de Anátema. Those who included these items in their setups had a significantly better win rate than those who worked towards other builds for Rell.
Additionally, similar to our rune setups, you can also find quality, dedicated, Rell item builds just below for the particular enemy team composition you are playing in your ongoing game.
Rell

Items para derrotar composições de time específicas

Pós-choque

Fonte da Vida

Osso Revestido

Inabalável

Perspicácia Cósmica

Flashtração Hextec
If you are battling a mixed enemy team comp, you should really consider grabbing her the Determinação, and Inspiração runes. In recent games, she won the greatest number of her rounds when equipped with these runes.
Yet, if you are fighting a more homogenous enemy team composition, such as an AP centric or a crowd control focused team, you should instead browse a little below to find the best Rell runes to win your particular game.
Rell

Runas para derrotar formações de time específicas

Pós-choque

Fonte da Vida

Condicionamento

Revitalizar

Entrega de Biscoitos

Perspicácia Cósmica