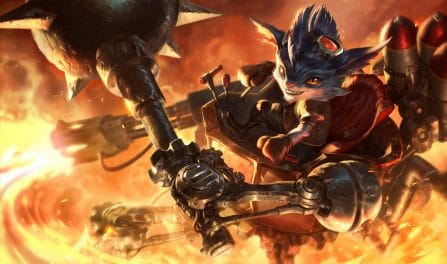 As melhores runas, itens e dicas para dominar seus inimigos
28,873 builds de Rumble analisadas
Our Rumble builds result from our examination of 28.873 recently ranked Rumble games. Only the top winrate Rumble builds that are also commonly used are recommended by us. Because we have so many rounds in our dataset, we are absolutely sure that we can give you top quality builds for R to help ensure you win your next game!
Additionally, to see the top Rumble build for a different skill rank, please pick a different skill tier from the dropdown menu above. The ideal champion builds will update to reflect that skill level's meta.
Melhores itens para build de

Rumble
The most critical items to use in your champion's build are: Explocinturão Hextec,Cajado do Vazio, and Ampulheta de Zhonya. Those who included these items in their setups had a higher win rate than those who utilized other Rumble builds.
Yet, like our rune builds, you can also find great, focused, Rumble item builds below for the specific enemy team setup you are battling in your ongoing game.
Rumble

Items para derrotar composições de time específicas
Melhores runas para

Rumble

Colheita Sombria

Golpe Desleal

Globos Oculares

Caça Suprema

Manto de Nimbus

Foco Absoluto
If you are playing a mixed enemy team comp, you should really consider grabbing him the Dominação, and Feitiçaria runes. In recent matches, he won the greatest percentage of his matches when built with these runes.
However, if you are facing a different enemy team composition, such as an AD centric or a CC centric team, you should instead look below to find the best Rumble runes to win your particular game.
Rumble

Runas para derrotar formações de time específicas

Colheita Sombria

Golpe Desleal

Globos Oculares

Caça Suprema

Transcendência

Tempestade Crescente
Guia para jogar com

Rumble
Use Cospe-fogo para zonear inimigos na lane com dano mágico em área.
Escudo de Sucata é bom ativar antes de iniciar no inimigo.
Spammar Cospe-fogo e Arpão Elétrico é uma boa estratégia de harass, mas tome cuidado para não superaquecer se não será silenciado.