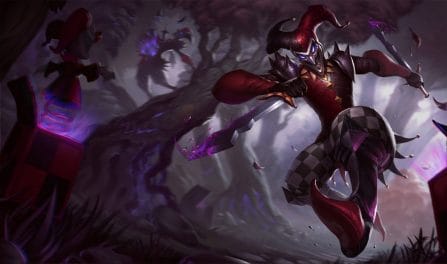 As melhores runas, itens e dicas para dominar seus inimigos
218,276 builds de Shaco analisadas
Our Shaco builds result from our evaluation of 218.276 recently ranked Shaco games. Only the top winrate Shaco builds that are also in common use are recommended by us. Since we have so many matches in our database, we are sure that we can provide the best quality builds for c to help ensure you win your next game!
Additionally, Shaco builds dedicated to a particular skill tier can be seen by choosing another rank from the dropdown menu found above. The recommended Shaco build shown will be focused on that division's meta.
Melhores itens para build de

Shaco
The most critical items to incorporate into your champion's build are: Angústia de Liandry,Capuz da Morte de Rabadon, and Ímpeto Cósmico. Players who included these items in their kits had a much better winrate than players who used other builds for Shaco.
Moreover, like our rune advice, you can also get quality, dedicated, Shaco item builds farther down for the particular enemy team composition you are playing in your next match.
Shaco

Items para derrotar composições de time específicas
Melhores runas para

Shaco

Colheita Sombria

Golpe Desleal

Globos Oculares

Caça Incansável

Tempestade Crescente

Transcendência
If you are fighting a mixed enemy team comp, you should strongly consider getting him the Dominação, and Feitiçaria runes. In recent games, he won the largest number of his matches when built with these runes.
Yet, if you are fighting a singular enemy team composition, such as an AP focused or a crowd control heavy team, you should instead scroll a little down to use the best Shaco runes to win your particular game.
Shaco

Runas para derrotar formações de time específicas

Colheita Sombria

Golpe Desleal

Globos Oculares

Caça Voraz

Transcendência

Tempestade Crescente
Guia para jogar com

Shaco
Shaco é um jungler excelente devido a defesa de sua Caixinha-Surpresa.
Você pode também dar split-push com a Caixinha-surpresa e Alucinações. Use-os se seu time for capaz de lidar com uma teamfight sem você.