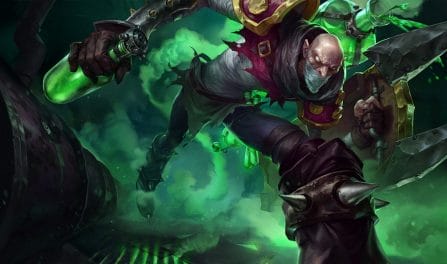 As melhores runas, itens e dicas para dominar seus inimigos
79,107 builds de Singed analisadas
We calculated our Singed build guidance by examining 79.107 recently ranked League of Legends matches with him in them. We only advise the top winrate Singed builds that were built by ranked players enough times for us to suggest them. With so many matches in our data, we are very confident in our suggested builds.
Additionally, Singed builds specific to a unique skill division can be seen by choosing another tier from the dropdown menu located above. The best Singed build shown will be focused on that tier's meta.
Melhores itens para build de

Singed
The most critical items to use in your champ's build are: Criafendas,Cetro de Cristal de Rylai, and Ampulheta de Zhonya. Players who added these pieces in their builds had a better winrate than players who went for other builds for Singed.
Moreover, like our rune advice, you can also get quality, dedicated, Singed item builds below for the specific enemy team comp you are battling in your next game.
Singed

Items para derrotar composições de time específicas
Melhores runas para

Singed

Conquistador

Triunfo

Lenda: Tenacidade

Até a Morte

Caça Voraz

Gosto de Sangue
If you are trying to beat a varied enemy team composition, you should strongly consider getting him the Precisão, and Dominação runes. In recent games, he won the largest percentage of his matches when built with these runes.
However, if you are facing a different enemy team composition, such as an AD heavy or a crowd control heavy team, you should instead scroll a little down to use the best Singed runes to defeat your particular set of opponents.
Singed

Runas para derrotar formações de time específicas

Conquistador

Triunfo

Lenda: Tenacidade

Até a Morte

Inabalável

Osso Revestido
Guia para jogar com

Singed
De Singed, use Rastro de Veneno na frente de seus minions para incomodar o inimigo e controlar a lane.
Jogue seus inimigos de volta ao range da torre, a seus aliados ou para a área de efeito do Mega Adesivo para enraizá-los.
Acrescente lentidão ao seu Rastro de Veneno incorporando Cetro de Cristal de Rylai para a sua build de Singed, fazendo com que sejá inútil persegui-lo.