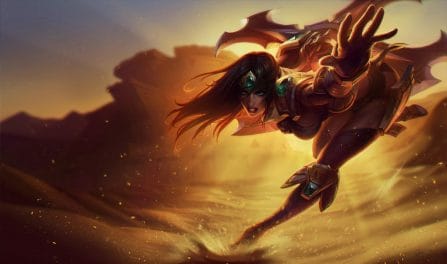 Os melhores Campões do LoL para sinergia e counterar Sivir
173,190 counters e matchups com Sivir analisados
To determine the greatest and worst counters for Sivir, we checked the outcomes of 173.190 recently finished, ranked LoL rounds. We determined which champions have the highest and lowest win rates against her. Furthermore, we isolated those few that are ideal allies and who could help stop her from being crushed. Having summarized so many games provides us lots of certainty in our conclusions.
As you can see above, Vayne is the strongest to challenge Sivir with a 50.8% win percentage against her. Close behind, Ashe and Jhin are the next greatest counters to Sivir. They have win rates of 50.5% and 50.3%, respectively. You should not bring her into a match where any of these champions has been selected.
On the other hand, if you are playing against Lucian, you should expect to do much better. Sivir counters them with a very respectable win percentage of 53.9%. Likewise, you can expect to do very well against Ezreal and Varus. These champs have the next lowest win rates against Sivir.
If you are interested in the best champion synergies for your own allies to improve your victory rate more, take a look at the champion synergies below.
Regardless of her lane, she does very well when on the same team as Master Yi. This combination typically raises her chances of winning by a few percent. Amumu and Zyra are also awesome champions to team up with.
If you would like to learn more about a particular Sivir counter, as well as the best builds to use in that matchup, please click the related row in the tables above. If the specific Sivir counters you are interested in are not visible below, you may view all potential counters at the link above.
To reduce the Sivir counters to one skill level only, select the desired ranked division from the dropdown above. The given champ counters and synergies will be updated.
Nós processamos milhões de partidas de League of Legends, extraídas diretamente dos servidores da Riot semanalmente. Analisamos os dados usando algoritmos avançados para oferecer os counters de Sivir mais precisos on-line.
Guia para counterar

Sivir
Adquirir armadura é uma boa ideia para bloquear a maioria do dano físico da Sivir.
Sivir é forte contra outros ADCs de poke, como Varus e Caitlyn. Seu alto dano e habilidade de se fechar quando as chances se voltam ao seu favor significam que ela pode controlar o fluxo de batalha e fazer o que quiser.
Além disso, Sivir é forte contra suporte de hook, como Blitz, Thresh, e Nautilus. Esses campeões depende muito de uma única habilidade de alvo único e controle de grupo com longo tempo de recarga. Ela pode usar seu escudo de feitiços para bloqueá-los e os tornarem inúteis.
Se Sivir ativar Na Caçada é um boa indicador que um gank está vindo por aí. Fique atento e busque segurança se ela o usar.