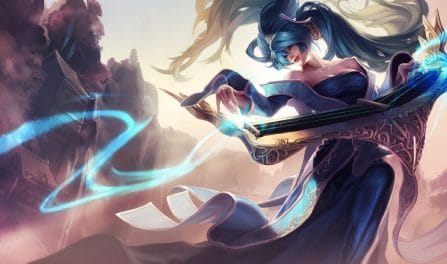 Estatísticas de Campeão e detalhamento de metagame do LoL
191,646 partidas com Sona analisadas
These champ statistics were computed using 191.646 recently played, ranked Sona games. MOBA Champion pulls ranked game results directly from Riot's own database. Having a large number of League of Legends games to evaluate gives us a lot of confidence in our ability to provide precise Sona statistics. Across all games, Sona did perform very well, with an above average win rate of 52.1%.
In the current meta, Sona is very popular. She has been selected in 6% of recently ranked rounds. Hardly anyone sees her as a danger. She has only been banned in approximately 1% of League games.
Taxa de vitória de

Sona

periodicamente
Because of Sona's K/D/A and utility, she has a pretty good overall win rate. She does very well in the late game, with a winrate of NaN% in that phase. Unfortunately, she does very poorly in the late game, where Sona's win rate is NaN%., The difference between her best and worst game phases is a large NaN%. This sizeable difference indicates that her power spikes and wanes in different phases of the round. Plan accordingly.
Estatísticas de posição de

Sona
You can see her typically laning in the support position. The best win rate position for Sona is support ([object Object]%). Currently, Sona's meta game is centered around utility and support. In particular, her gameplay should mainly be centered around supporting others. Moreover, she is a decent physical damage dealer champion. Tanking is the least critical part of Sona's build.
If you are not familiar with her skills and tactics, you won't find it difficult trying her out for the first time. Most competitors believe her to not be a challenging champion to learn. Sona mostly causes magic damage (81% of her total damage). She doesn't deal much of other damage types and should not be played as hybrid damage dealer..
Sona deals a small amount of damage over the course of a normal game (9.530 damage). You probably shouldn't focus on developing her as a damage dealing champ to destroy your enemies. Instead, focus on assisting your allies to come out on top.
Sona é um dos maiores prodígios em etwahl de cordas em Demacia, falando somente através de seus acordes graciosos e de suas árias vibrantes. Seu comportamento refinado cativou os nobres, apesar de muitos suspeitarem que suas melodias fascinantes...
She is a weak damage dealer in the game with 2.4 kills on average each game. That is one of the lowest kill rates amongst all supports. Additionally, she has a fairly typical average champion death count (5.6 deaths). Furthermore, Sona's KDA is usually very high with an average KDA ratio of 2.9 as well as 14.1 assists per round.
Estatísticas base de

Sona
Resistência mágica
30 - 30
Analisamos milhões de partidas do League of Legends extraídas diretamente dos servidores da Riot semanalmente e processamos os dados usando algoritmos avançados para oferecer as estatísticas mais precisas de Sona on-line. Os dados são analisados por tier, de modo que você possa encontrar as taxas de vitória e outras estatísticas mais relevantes de Sona.