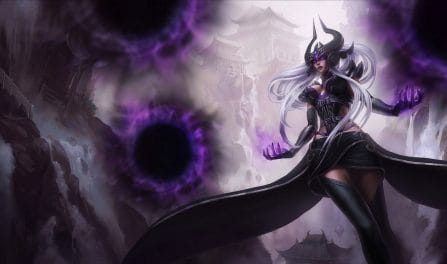 Estatísticas de Campeão e detalhamento de metagame do LoL
49,068 partidas com Syndra analisadas
To generate these Syndra stats, we analyzed 49,068 recent ranked League of Legends matches with her chosen. We pull ranked match summaries directly from Riot's servers. This allows us to be very confident in our Syndra stats. She didn't do a good job in recent rounds. She has a poor win rate of 47.3%.
Syndra has been used very little in recent ranked LoL matches. In the current meta, her popularity is 1.6%. Hardly anyone sees her as a danger. She has only been banned in about 0.3% of LoL games.
She is a powerful damage dealer in the game with 6 kills on average each round. That is the 20th highest kill count among all mids. (There are 34 total champions that are typically played in in the mid position.) Furthermore, she has a relatively typical average death rate (6 deaths; 22nd out of all mids). Furthermore, Syndra's KDA is usually average with an average KDA ratio of 2.2 as well as 7 assists per round. This is the 16th best assist count among mid champs.
Taxa de vitória de

Syndra

periodicamente
Our calculated overall Syndra win rate is the 26th best amonst mids. She is most powerful in the mid phase of the game with a 47.0% win rate in that stage. In comparison, she has a 46.8% win rate in the early phase and a 47.3% win rate overall. There is only a small difference between these Syndra win rates (0.2%). This negligible difference shows us that her power is consistent throughout an entire round.
Estatísticas de posição de

Syndra
Syndra

Estatísticas e meta
Syndra is most commonly played in the mid position. This occurs in 86% of her games. Mid Syndra also has the highest win rate (46.8%) of all positions. Currently, Syndra's meta game is centered around dealing damage. Specifically, her gameplay should primarily be centered around magical damage. Additionally, she is a decent support champ. Dealing physical damage is the least critical part of Syndra's playstyle.
You should anticipate having to dedicate a significant amount of time practicing and learning to pick up Syndra. Most League gamers believe she is a difficult champ to master. Syndra primarily does magical damage (92% of her total damage). She doesn't deal a large amount of physical damage and should not be considered a hybrid damage dealer.
Syndra deals a lot of damage over the course of a typical round (20,119 damage). You should focus on building her as a damage dealing champion to crush your enemies.
Estatísticas base de

Syndra
Resistência mágica
30 - 38.5
Syndra is a fearsome Ionian mage with incredible power at her command. As a child, she disturbed the village elders with her reckless and wild magic. She was sent away to be taught greater control, but eventually discovered her supposed mentor was...
Analisamos milhões de partidas do League of Legends extraídas diretamente dos servidores da Riot semanalmente e processamos os dados usando algoritmos avançados para oferecer as estatísticas mais precisas de Syndra on-line. Os dados são analisados por tier, de modo que você possa encontrar as taxas de vitória e outras estatísticas mais relevantes de Syndra.