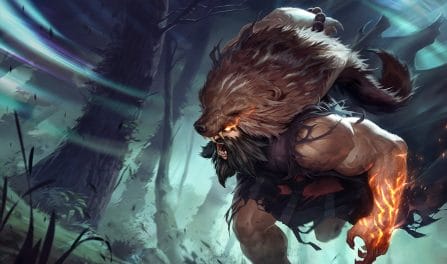 Os melhores Campões do LoL para sinergia e counterar Udyr
69,104 counters e matchups com Udyr analisados
We calculated our best and worst Udyr counters using info pulled from 69.104 ranked LoL matches. We have established those champs with the best and worse rates of victory versus him. Furthermore, we have found which champions can be valuable teammates to to get more wins.
As you can see above, Amumu is the strongest to face off against Udyr with a 55.9% win fraction against him. In a close second and third place, Trundle and Nocturne are the next greatest counters to Udyr. These two have win rates of 55.6% and 54.1%, respectively. You should not bring him into a game where any of these other champs has been picked.
Conversely, if you are fighting against Evelynn, you probably should anticipate doing much better. Udyr counters them with a great win percentage of 53.2%. Likewise, you should anticipate doing very well when fighting Lee Sin and Kayn. These champs have the next worst winrates against Udyr.
If you are interested in the best champion pairings for your own allies to improve your win rate even further, look at our champ synergies.
Regardless of his lane, he does best when alongside Brand. This combination typically enhances his chances of winning by a few percent. Xerath and Zyra are also fantastic champions to pair with.
If you want to find out more about a particular Udyr counter, along with the best builds to employ in that matchup, please click the related row in the tables above. If the particular Udyr counters you are interested in are not visible below, you can get all potential counters at the link above.
To reduce the Udyr counters to one skill level only, select your chosen ranked division from the dropdown above. The recommended champion counters and pairings will update.
Nós processamos milhões de partidas de League of Legends, extraídas diretamente dos servidores da Riot semanalmente. Analisamos os dados usando algoritmos avançados para oferecer os counters de Udyr mais precisos on-line.
Urdyr precisa estar em alcance corpo-a-corpo para mitigar seu dano. Mantenha distância dele e dê kite nele da melhor forma que puder com seus carries ranged.
Udyr é forte contra e pode matar carries fora de posição. Não fique ansioso demais.