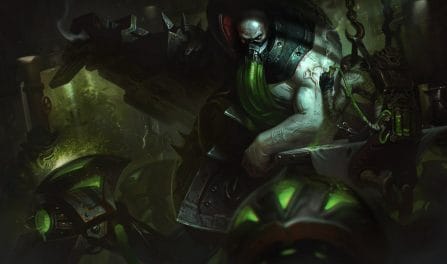 Os melhores Campões do LoL para sinergia e counterar Urgot
73,817 counters e matchups com Urgot analisados
To determine the most and least favorable counters for Urgot, we evaluated the results of 73,817 recently completed, ranked League matches. We found which champs have the highest and lowest win rates versus him. Furthermore, we extracted those rare champions that are ideal allies and who could help prevent you from being countered. Having analyzed so many games leaves us with lots of certainty in our Urgot counter stats.
As you can see above, Dr. Mundo is the best to challenge Urgot with a 55.0% win fraction against him. Close behind, Kog'Maw and Amumu are the next scariest threats to Urgot. They have win rates of 53.0% and 53.0%, respectively. You should avoid bringing him into a match where one of these other champions has been chosen.
Conversely, if you're facing off against Qiyana, you should anticipate doing much better. Urgot counters them with a solid win rate of 59.0%. Likewise, you should anticipate doing very well against Nidalee and Rengar. These champs have the next lowest winrates versus Urgot.
If you want good champion synergies for your own allies to advance your win rate more, take a peek at at the champion synergies above. Regardless of his chosen position, he does best when paired with Malzahar. This pairing usually increases his average win rate by 6.0%. Brand and Trundle are also awesome champions to fight alongside.
If you want to learn more about a particular Urgot counter, as well as the finest builds to employ in that pairing, please click the related row in the tables above. If the particular Urgot counters you are interested in are not avaialable below, you can see all potential counters at the above link.
In order to see Urgot pairings and counters from one division rank, you should use the dropdown menu above to filter the counter stats shown.
Nós processamos milhões de partidas de League of Legends, extraídas diretamente dos servidores da Riot semanalmente. Analisamos os dados usando algoritmos avançados para oferecer os counters de Urgot mais precisos on-line.
Guia para counterar

Urgot
Você terá a vantagem se puder desviar da Carga Corrosiva. Isso é importante na lane para evitar que Urgot a combine com o Expulgar.
Mantenha-se atento a cor da perna de Urgot: Saia de perto quando a perna estiver verde e sinta-se livre para dar engage quando estiver laranja.
Urgot não pode se mover enquanto estiver canalizando o Pior Que a Morte, então seus carries podem neutralizá-lo quando ele estiver usando essa habilidade.