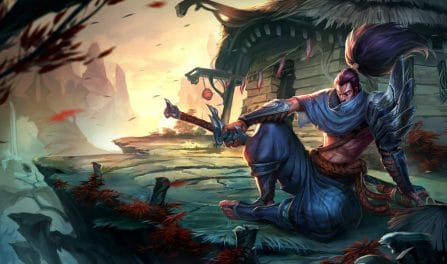 As melhores runas, itens e dicas para dominar seus inimigos
395,722 builds de Yasuo analisadas
We established our Yasuo build guidance by examining 395.722 recently ranked League rounds with him selected. We only advise the highest winrate Yasuo builds that have been used by ranked LoL players enough times for us to reccomend them. With so many games in our dataset, we are confident in our recommended builds.
Additionally, Yasuo builds dedicated to a particular skill rank can be seen by choosing another tier from the dropdown menu found above. The best Yasuo build shown will be focused on that tier's meta.
Melhores itens para build de

Yasuo
The most essential items to use in your champ's build are: Arco-escudo Imortal,Anjo Guardião, and Limite da Razão. Players who added these pieces in their builds had a better win rate than those who tried for other builds for Yasuo.
Additionally, like our rune setups, you can also find great, focused, Yasuo item builds just below for the specific enemy team setup you are facing in your next game.
Yasuo

Items para derrotar composições de time específicas
Melhores runas para

Yasuo

Conquistador

Triunfo

Lenda: Espontaneidade

Até a Morte

Ventos Revigorantes

Revitalizar
If you are facing a varied enemy team composition, you should really consider grabbing Yasuo the Precisão, and Determinação runes. In recent matches, he won the largest percentage of his games when using these runes.
Although, if you are battling a more single focused enemy team comp, such as an AP focused or a crowd control centric team, you should instead look further down to find the best Yasuo runes to defeat your particular set of opponents.
Yasuo

Runas para derrotar formações de time específicas

Conquistador

Triunfo

Lenda: Espontaneidade

Até a Morte

Osso Revestido

Crescimento Excessivo
Guia para jogar com

Yasuo
Use a Parede de Vento corretamente para bloquear a maior parte dos ataques e habilidades inimigas.
Sinergize Último Suspiro com qualquer habilidade de knock-up de algum dos seus companheiros de time para maximizar o combo.