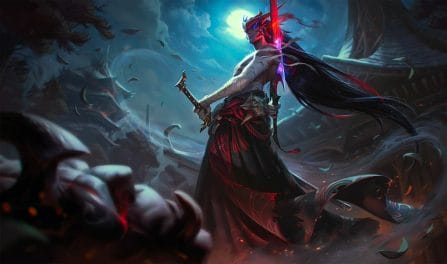 As melhores runas, itens e dicas para dominar seus inimigos
167,761 builds de Yone analisadas
Melhores itens para build de

Yone
The most essential items to use in your Yone build are: Bloodward, Guardian Angel, Infinity Edge, and Mortal Reminder. Yet, like our rune builds, you can also find great, dedicated, Yone item builds farther down for the particular enemy team composition you are facing in your current game. Those who added these items in their kits had a much better win rate than players who tried for other Yone builds.
Yone

Items para derrotar composições de time específicas

Conquistador

Triunfo

Lenda: Espontaneidade

Até a Morte

Condicionamento

Crescimento Excessivo
If you are battling a varied enemy team composition, you should strongly consider getting yourself the Conqueror, Triumph, Legend: Alacrity, Last Stand, Conditioning, and Overgrowth runes. In recent games, he won the largest fraction of his matches when equiped with these runes. However, if you are trying to beat a different enemy team composition, such as an AD focused or a tank centric team, you should instead look below to use the best Yone runes to win your particular round.
Yone

Runas para derrotar formações de time específicas

Agilidade nos Pés

Triunfo

Lenda: Espontaneidade

Golpe de Misericórdia

Impacto Repentino

Caça Voraz
Our Yone builds result from our analysis of 167,761 recently ranked Yone games. Only the highest win rate Yone builds that are also commonly used are advised by us. Because we have so many games in our dataset, we are absolutelyconfident that we can generate high quality builds for Yone to help you win your next round!
Additionally, Yone builds dedicated to a particular skill rank can be viewed by picking another rank from the dropdown menu found above. The suggested Yone build shown will be focused on that tier's meta.