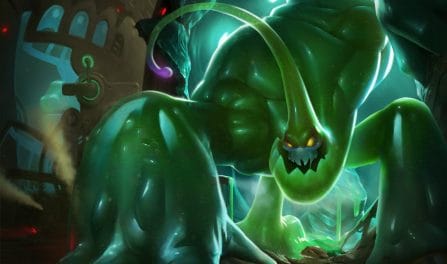 Os melhores Campões do LoL para sinergia e counterar Zac
123,492 counters e matchups com Zac analisados
To determine the most and least advantageous counters for Zac, we examined the results of 123.492 recently completed, ranked League of Legends rounds. We determined which champs have the highest and lowest win rates against him. Furthermore, we determined those few that are great allies and who could help prevent him from being crushed. Having reviewed so many games provides us great certainty in our Zac counter stats.
As you can see above, Kayn is the best to beat Zac with a 51.9% win fraction against him. In a close second and third place, Jarvan IV and Trundle are the next biggest counters to Zac. These two champs have win rates of 51.6% and 50.9%, respectively. You should not bring him into a match where any of these other champions has been selected.
On the other hand, if you're battling against Lee Sin, you can anticipate doing much better. Zac counters them with a great win rate of 54.4%. Likewise, you should anticipate doing very well against Warwick and Kha'Zix. They have the next lowest win rates versus Zac.
If you are seeking good champ synergies for your own teammates to enhance your victory rate more, glance at our Zac synergies below.
Regardless of his lane, he does best when paired with Yasuo. This pairing typically enhances his average win rate by a few percent. Vayne and Draven are also fantastic champions to fight alongside.
To see the details and best Zac counter builds about a specific matchup, you can click the related row in one of the tables above. If you are interested in specific Zac counters not listed here, you may click the "All Matchups" button to get them.
To narrow the Zac counters to a particular ranked division only, pick your chosen ranked division from the dropdown above. The recommended champ counters and synergies will be updated.
Nós processamos milhões de partidas de League of Legends, extraídas diretamente dos servidores da Riot semanalmente. Analisamos os dados usando algoritmos avançados para oferecer os counters de Zac mais precisos on-line.
Evite se agrupar ja que as habilidade Estilingue Elástico e Vamos Pular de Zac atuam como efeito em área.
Zac é forte contra lanes com baixa mobilidade ou que se estenderam demais. Ele é capaz de dar engage rapidamente e sem aviso.
Quando Divisão Celular estiver ativa, seja rápido em abater todos os pedaços previnindo que se agrupem de volta.