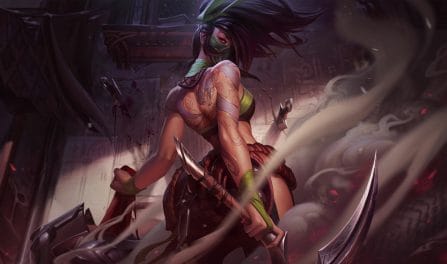 Die besten Runen, Gegenstände und Tipps, um die Konkurrenz zu dominieren
101,352 Akali Builds analysiert
Beste Gegenstände für dein

Akali

Build
The most essential items to include in your Akali build are: Night Harvester, Rabadon's Deathcap, Zhonya's Hourglass, and Cosmic Drive. Yet, as with our rune builds, you can also get great, focused, Akali item builds farther down for the particular enemy team composition you are playing in your ongoing match. Those who added these pieces in their kits had a much higher winrate than players who utilized other builds for Akali.
Akali

Gegenstände, um gezielte Teamkämpfe zu besiegen
Beste

Akali

Runen für dein nächstes Build

Leichtfüßigkeit

Geistesgegenwart

Legende: Zähigkeit

Letztes Gefecht

Knochenpanzerung

Unerschrocken
If you are playing a mixed enemy team composition, you should really consider grabbing Akali the Fleet Footwork, Presence of Mind, Legend: Tenacity, Last Stand, Bone Plating, and Unflinching runes. In recent games, she won the greatest percentage of her matches when using these runes. However, if you are trying to beat a different enemy team comp, such as an AP focused or a CC heavy team, you should instead look further down to get the best Akali runes to defeat your particular enemy team.
Akali

Runen, um engagierte gegnerische Teams zu schlagen

Eroberer

Triumph

Legende: Zähigkeit

Gnadenstoß

Plötzlicher Einschlag

Ultimativer Jäger
Our Akali builds come out of our examination of 101,352 recently ranked Akali rounds. Only the best winrate Akali builds that are also commonly used are recommended by us. Because we have so many games in our database, we are absolutelyconfident that we can generate the highest quality builds for Akali to help you win your next match!
Additionally, to view the best Akali build from a different skill division, please pick a different one from the dropdown menu above. The ideal Akali builds will update to characterize that skill level's meta.