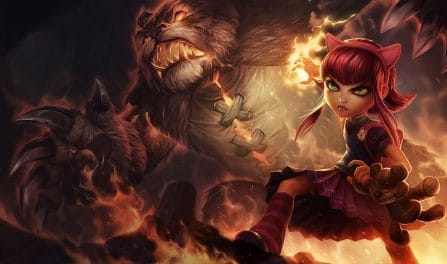 Los mejores campeones de LoL para sinergizar y contrarrestar a Annie
143,186 Annie Counters y emparejamientos analizados
To determine the greatest and worst counters for Annie, we summarized the results of 143.186 recently finished, ranked League rounds. We found which champions have the best and worst win rates versus her. Furthermore, we found those few that are ideal allies and who could help stop your champion from being countered. Having reviewed so many rounds gives us complete faith in our Annie counter stats.
As can be seen above, Diana is the strongest to face off against Annie with a 52.2% victory percentage against her. Close behind, Viktor and Xerath are the next biggest counters to Annie. These two have win rates of 51.4% and 51.2%, respectively. You should not take her into a game where any of these champions has been selected.
Mejores counters de

Annie
Conversely, if you're facing off against Ryze, you should expect to do much better. Annie counters them with a very respectable win rate of 56.7%. Similarly, you can anticipate doing very well when fighting Twisted Fate and Orianna. These champs have the next worst win rates when countering Annie.
If you would like good champion synergies for your own teammates to advance your chances of winning more, take a look at the champ synergies below.
Regardless of her chosen position, she does admirably when paired with Maestro Yi. This pairing typically boosts her chances of winning by a few percent. Trundle and Blitzcrank are also great champs to pair with.
To review the details and best Annie counter builds for a specific matchup, you can click the corresponding row in one of the tables above. If you are interested in specific Annie counters that aren't displayed here, you can click the "All Matchups" button to see them.
To get Annie pairings and counters from a particular skill level, you should use the dropdown menu above to narrow the counters shown.
Cada semana revisamos millones de partidas de League of Legends sacadas directamente de los servidores de Riot. Analizamos los datos usando tanto estadísticas convencionales como algoritmos avanzados de aprendizaje automático para obtener los counters de Annie más precisos.
Guía para contrarrestar a

Annie
Mantén la distancia con el oso de Annie, Tibbers, porque quema las unidades enemigas a su alrededor.
Cuando el aturdimiento de Annie está listo, hay un poder blanco arremolinado a su alrededor. Para otras skins, el efecto puede ser diferente. Identifica su aspecto cuando su aturdimiento está listo.
Las Annies hábiles vagarán cuando les falte solo una habilidad para aturdir. Luego te golpearán una vez antes de dejar caer un oso aturdidor sobre ti. No siempre puedes confiar en un indicador visual para saber cuándo Annie está lista para aturdirte.
Annie es una maga explosiva. Los buenos counters de Annie pueden sobrevivir a su ráfaga y/o flanquearla mientras tiene sus habilidades en enfriamiento.
El hechizo de invocador Castigo puede ayudar a matar a Tibbers.
Annie puede infligir mucho daño a los campeones de velocidad de ataque/on-hit que intentan eliminarla cuando utiliza su habilidad Escudo fundido. Esta habilidad inflige daño mágico al atacante después de cada ataque. También puede cubrir Tibbers. Ten cuidado al intentar contrarrestar a Annie si eres una campeona de impacto bajo en AD. Presta atención a los efectos visuales del hechizo Escudo fundido.
Annie contrarresta a los campeones blandos. Su combo de ráfaga completa inflige una gran cantidad de daño.