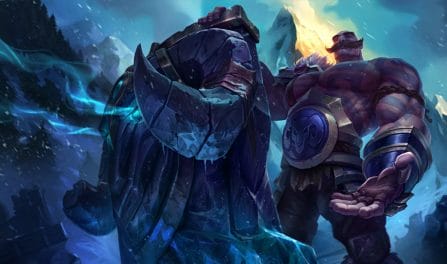 Los mejores campeones de LoL para sinergizar y contrarrestar a Braum
36,074 Braum Counters y emparejamientos analizados
Mejores counters de

Braum
We computed our best and worst Braum counters using data taken from 36,074 ranked League of Legends games. We have established the champs with the best and worse rates of victory against him. Additionally, we found which champs can be valuable allies to help you win more League games.
As shown above, Zyra is the best to face off against Braum with a 55.0% win fraction against him. Similarly, Viktor and Brand are the next biggest threats to Braum. These two champs have win rates of 55.0% and 54.0%, respectively. You should not take him into a round where any of these champions has already been chosen.
Conversely, if you are playing against Akshan, you can expect to do much better. Braum counters them with a solid win percentage of 61.0%. Similarly, you should anticipate doing very well when battling Ryze and Nidalee. They have the next poorest win rates versus Braum.
If you would like great champion pairings for your own allies to increase your victory rate even further, glance at our champion synergies above. Regardless of his chosen position, he does best when on the same team as Rakan. This pairing typically boosts his chances of winning by 6.0%. Urgot and Master Yi are also fantastic champs to fight alongside.
To see the details and best Braum counter builds for a particular matchup, you can click the related row in one of the tables above. If you would like specific Braum counters not shown here, you may click the button near the top of the page to browse them.
To narrow the Braum counters to a particular skill level only, select your chosen skill level from the dropdown above. The provided Braum counters and synergies will be revised.
Cada semana revisamos millones de partidas de League of Legends sacadas directamente de los servidores de Riot. Analizamos los datos usando tanto estadísticas convencionales como algoritmos avanzados de aprendizaje automático para obtener los counters de Braum más precisos.
Guía para contrarrestar a

Braum
Aprende a atacar alrededor del Irrompible de Braum para que el daño pase.
Obligar a Braum a usar Inquebrantable antes de tiempo puede hacer que tengas más éxito en una pelea de equipo posterior.
Braum funciona bien con ADCs que tienen una alta velocidad de ataque. Juntos pueden activar su pasiva más rápido.
Braum contrarresta la mayoría de los campeones de daño dirigido, como los ADC. Los carry que pueden infligir daño AoE que no pase primero por su escudo (como el cometa de Veigar) pueden evitar la mayor parte de la protección de Braum.