Estadísticas de

Dr. Mundo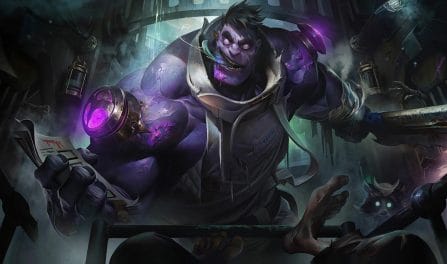 Estadísticas de campeones de LoL y desglose de Meta
179,140 Partidos analizados de Dr. Mundo
To generate these Dr. Mundo stats, we analyzed 179.140 recent competitive League matches with him chosen. We pull competitive match stats directly from Riot's servers. This gives us great confidence in our Dr. Mundo stats. Across all games, Dr. Mundo did do very well, with an above average win rate of 51.8%.
In the current meta, Dr. Mundo is very popular. He has been selected in 6.8% of recently ranked matches. Some players see him as a threat. He has been banned in about 9.2% of League of Legends games.
Tasa de victorias a lo largo del tiempo de

Dr. Mundo
Thanks to Dr. Mundo's K/D/A and utility, he has a pretty good overall win rate. He does best in the late game, with a winrate of NaN% in that phase. Unfortunately, he does terribly in the late game, where Dr. Mundo's win rate is NaN%., The difference between his best and worst game phases is a large NaN%. This large difference makes it clear that his power spikes and fades in different phases of the round. Plan well.
Estadísticas de posición de

Dr. Mundo
Dr. Mundo

Estadísticas y Meta
Dr. Mundo is most commonly played in the top position. This occurs in [object Object]% of his games. Top Dr. Mundo also has the highest win rate ([object Object]%) of all positions. Currently, Dr. Mundo's meta game is centered around tanking. Specifically, his gameplay should mainly be focused on protecting carries. Additionally, he is a pretty good physical damage dealer champion. Supporting others and crowd control are the least significant part of Dr. Mundo's gameplay.
If you are not familiar with his abilities and gameplay, you may find it difficult picking him up for the first time. Most players consider him to not be a difficult champion to get good at. Dr. Mundo primarily deals magic damage (68% of his total damage). He also deals a significant amount of physical damage.
Dr. Mundo deals tons of damage in a normal match (20.522 damage). You should focus on developing him as a powerful champ to crush your opponents.
Estilo de juego de

Dr. Mundo
Loco de remate, trágicamente homicida, terriblemente morado: el Dr. Mundo es lo que mantiene en sus casas a muchos habitantes de Zaun en las noches especialmente oscuras. Este autoproclamado doctor fue paciente del psiquiátrico más infame de Zaun. Tras...
He is an average damage dealer on the Rift with 4.9 kills on average each game. That is one of the lowest kill counts among all tops. 'Moreover, he has a somewhat typical death rate with an average of 5.1 deaths per League round. Moreover, Dr. Mundo has an average KDA ratio (2.3) with 6.9 assists.
Estadísticas base de

Dr. Mundo
Resistencia mágica
32 - 32
Velocidad de Movimiento
345
Revisamos millones de partidas de League of Legends extraídas directamente de los servidores de Riot cada semana y analizamos los datos mediante algoritmos avanzados para ofrecerte las estadísticas más precisas de Dr. Mundo en línea. Analizamos los datos por niveles, para que puedas encontrar el porcentaje de victorias más relevante y otras estadísticas.