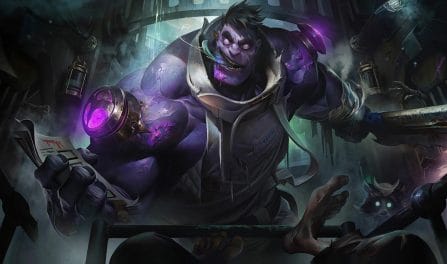 Los mejores campeones de LoL para sinergizar y contrarrestar a Dr. Mundo
96,330 Dr. Mundo Counters y emparejamientos analizados
Mejores counters de

Dr. Mundo
Peores counters de

Dr. Mundo
To select the most and least favorable counters for Dr. Mundo, we studied the outcomes of 96,330 recently finished, ranked LoL rounds. We determined which champs have the highest and lowest win rates versus him. Furthermore, we found those few that are solid teammates and who could help stop you from being countered. Having analyzed so many matches leaves us with lots of confidence in our conclusions.
As shown above, Kled is the best to challenge Dr. Mundo with a 53.0% victory rate against him. In a close second and third place, Trundle and Yorick are the next greatest threats to Dr. Mundo. These two have win rates of 53.0% and 52.0%, respectively. You should avoid taking him into a match where one of these champions has been selected.
On the other hand, if you are facing off against Zoe, you should anticipate doing much better. Dr. mundo counters them with a much better win rate of 58.0%. Likewise, you can expect to do very well when fighting Azir and Nidalee. These champs have the next worst winrates when trying to counter Dr. Mundo.
If you are interested in great champion synergies for your own allies to enhance your victory rate even further, take a look at our champion synergies above. Regardless of his lane, he does best when paired with Zyra. This combination typically improves his chances of winning by 6.0%. Xerath and Brand are also great champions to team up with.
To see the details and best Dr. Mundo counter builds about a specific matchup, you can click the related row in the tables above. If you are interested in specific Dr. Mundo counters that are not listed here, you can click the "All Matchups" button to browse them.
To restrict the Dr. Mundo counters to a specific ranked division only, pick the desired skill level from the dropdown above. The provided Dr. Mundo counters and synergies will be updated.
Cada semana revisamos millones de partidas de League of Legends sacadas directamente de los servidores de Riot. Analizamos los datos usando tanto estadísticas convencionales como algoritmos avanzados de aprendizaje automático para obtener los counters de Dr. Mundo más precisos.
Guía para contrarrestar a

Dr. Mundo
No te molestes en acosar al Dr. Mundo
No enfoques al Dr. Mundo durante las peleas de equipo, porque es un tanque y cuesta mucho derribarlo. Además, es muy rápido y evita el CC, por lo que es difícil de atrapar para matarlo.
Dr. Mundo contrarresta el CC duro. Su pasiva evita que el CC le afecte, pero sólo se bloqueará el primer CC dentro de una ventana. Puedes abrumarlo con múltiples habilidades de CC si se usan rápidamente o si tu campeón tiene muchas habilidades de CC (Leona).