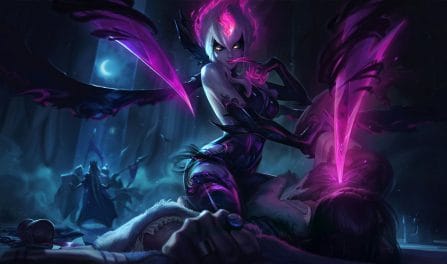 Las mejores runas, elementos y consejos para dominar a tu competencia
87,731 Evelynn Builds Analizadas
Los mejores items para

Evelynn
The most critical items to include in your Evelynn build are: Upgraded Aeropack, Rabadon's Deathcap, Lich Bane, and Void Staff. Moreover, like our rune builds, you can also find quality, dedicated, Evelynn item builds below for the particular enemy team comp you are battling in your ongoing match. Players who added these items in their gear had a much better winrate than those who used other builds for Evelynn.
Evelynn

Items para derrotar a los Comps de equipos enfocados
Las mejores runas para

Evelynn

Electrocutar

Impacto repentino

Colección de globos oculares

Cazador definitivo

Leyenda: Tenacidad

Golpe de gracia
If you are facing a varied enemy team composition, you should strongly consider getting her the Electrocute, Sudden Impact, Eyeball Collection, Ultimate Hunter, Legend: Tenacity, and Coup de Grace runes. In recent games, she won the largest percentage of her rounds when built with these runes. Yet, if you are playing a different enemy team comp, such as an AP focused or a CC centric team, you should instead scrollbrowse a little down to see the best Evelynn runes to win your particular match.
Evelynn

Runas para vencer a los equipos enemigos dedicados

Electrocutar

Impacto repentino

Colección de globos oculares

Cazador definitivo

Se avecina tormenta

Trascendencia
Guía para jugar con

Evelynn
La invisibilidad de Evelyn la convierte en una jungler útil, pero es escuálida y se necesita tiempo para manejar sus habilidades con eficacia.
Utiliza la ÚItima Caricia para iniciar las peleas de equipo ya que tiene un AOE de daño y ralentización.
We established our Evelynn build suggestions by examining 87,731 recently ranked League games with her in them. We only propose the highest winrate Evelynn builds that were used by ranked LoL players enough times for us to propose them. With so many games in our dataset, we are confident in our recommended builds.
Additionally, to see the best Evelynn build from a different skill division, please pick a different skill tier from the dropdown menu above. The proposed Evelynn builds will change to characterize that division's meta.