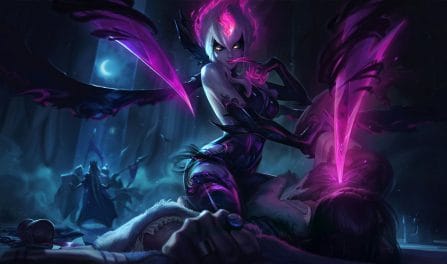 Los mejores campeones de LoL para sinergizar y contrarrestar a Evelynn
76,216 Evelynn Counters y emparejamientos analizados
Mejores counters de

Evelynn
Peores counters de

Evelynn
To select the best and worst counters for Evelynn, we summarized the scores of 76,216 recently completed, ranked League matches. We determined which champions have the highest and lowest win rates against her. Additionally, we isolated those select champs that are adept companions and who could help prevent her from being countered. Having reviewed so many matches provides us lots of confidence in our conclusions.
As shown above, Lissandra is the strongest to challenge Evelynn with a 55.0% win fraction against her. Close behind, Vi and Master Yi are the next scariest threats to Evelynn. They have win rates of 55.0% and 55.0%, respectively. You should avoid bringing her into a match where one of these other champions has already been selected.
On the other hand, if you are battling Taliyah, you probably should expect to do much better. Evelynn counters them with a very respectable win rate of 55.0%. Equally, you can anticipate doing very well against Akshan and Ryze. These champs have the next lowest win rates against Evelynn.
If you are looking for great champ synergies for your own allies to improve your victory rate even further, take a peek at at our champ synergies above. Regardless of her chosen position, she does admirably when alonside Kled. This combination typically boosts her average win rate by 3.0%. Zac and Wukong are also awesome champs to pair with.
If you want to find out more about a particular Evelynn counter, as well as the preferred builds to adopt in that situation, please click the corresponding row in the tables above. If the specific Evelynn counters you are looking for are not avaialable below, you may see all possible counters at the link above.
In order to see Evelynn pairings and counters from one skill level, you can use the dropdown menu above to narrow the counters provided.
Cada semana revisamos millones de partidas de League of Legends sacadas directamente de los servidores de Riot. Analizamos los datos usando tanto estadísticas convencionales como algoritmos avanzados de aprendizaje automático para obtener los counters de Evelynn más precisos.
Guía para contrarrestar a

Evelynn
Los centinelas de control pueden proporcionar visión de Evelynn cuando utiliza el Paseo de las Sombras y son estupendos para contrarrestarla.
Evelynn contrarresta a campeones con poca movilidad. Su encanto tarda un poco en cargarse. Los campeones que pueden escapar antes de que esté listo son difíciles de emboscar.
Evelynn es muy blanda y puede ser reventada rápidamente en las peleas de equipo si no se ha construido con mucha vida.