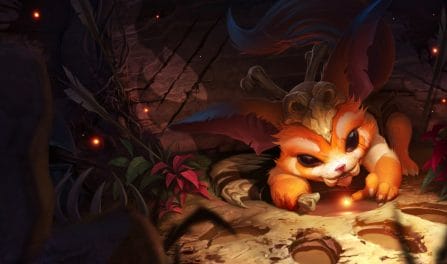 Las mejores runas, elementos y consejos para dominar a tu competencia
37,451 Gnar Builds Analizadas
Los mejores items para

Gnar
The most essential items to incorporate into your Gnar build are: Divine Sunderer, Guardian Angel, Thornmail, and Randuin's Omen. Yet, as with our rune builds, you can also get great, focused, Gnar item builds below for the specific enemy team comp you are battling in your current match. Those who included these pieces in their setups had a much higher winrate than those who utilized other builds for Gnar.
Gnar

Items para derrotar a los Comps de equipos enfocados
Las mejores runas para

Gnar

Garras del inmortal

Demoler

Revestimiento de huesos

Inquebrantable

Sabor a sangre

Poro fantasmal
If you are battling a varied enemy team composition, you should really consider grabbing yourself the Grasp of the Undying, Demolish, Bone Plating, Unflinching, Taste of Blood, and Ghost Poro runes. In recent matches, he won the largest fraction of his games when built with these runes. Yet, if you are battling a more homogenous enemy team composition, such as an AP heavy or a crowd control centric team, you should instead scrollbrowse a little below to find the best Gnar runes to win your particular match.
Gnar

Runas para vencer a los equipos enemigos dedicados

Conquistador

Triunfo

Leyenda: Presteza

Golpe de gracia

Demoler

Revestimiento de huesos
Intenta sincronizar las transformaciones de Furia de Gnar para maximizar la efectividad de Mega Gnar y Mini Gnar.
Participa en peleas de equipo cuando tengas la barra de Furia alta para asegurarte de que puedes transformarte.
Our Gnar builds come from our analysis of 37,451 recently ranked Gnar games. Only the top winrate Gnar builds that are also commonly used are advised by us. Since we have so many games in our dataset, we are very confident that we can give you the highest quality builds for Gnar to help you win your next round!
Additionally, Gnar builds specific to a particular skill rank can be seen by picking another division from the dropdown menu found above. The recommended Gnar build shown will be specific to that tier's meta.