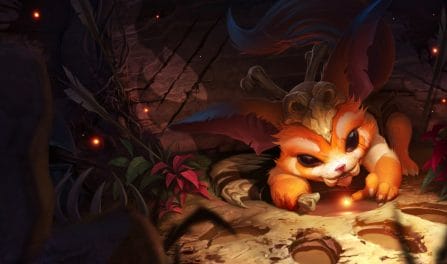 Los mejores campeones de LoL para sinergizar y contrarrestar a Gnar
89,247 Gnar Counters y emparejamientos analizados
To determine the most and least favorable counters for Gnar, we evaluated the results of 89.247 recently finished, ranked LoL games. We determined which champions have the highest and lowest win rates versus him. Furthermore, we found those select champs that are solid companions and who could help stop him from being countered. Having studied so many matches provides us lots of faith in our Gnar counter stats.
As shown above, Irelia is the best to challenge Gnar with a 57.6% win fraction against him. In a close second and third place, Yorick and Urgot are the next scariest counters to Gnar. These two have win rates of 54.7% and 54.2%, respectively. You should avoid bringing him into a game where one of these champs has been picked.
Conversely, if you are playing against Darius, you probably should expect to do much better. Gnar counters them with a very respectable win percentage of 50.6%. Likewise, you should anticipate doing very well when battling Shen and Kayle. These champs have the next lowest win rates when trying to counter Gnar.
If you would like good champ synergies for your own teammates to enhance your victory rate more, glance at our champ synergies below.
Regardless of his chosen position, he does very well when alongside Brand. This combination usually raises his chances of winning by a few percent. Ashe and Maestro Yi are also fantastic champions to pair with.
To review the details and best Gnar counter builds for a particular matchup, you can click the related row in one of the tables above. If you want any Gnar counters that aren't listed here, you may click the "All Matchups" button to view details on all potential counters.
Additionally, if you would like to review Gnar synergies and counters for a particular rank tier, please feel free to pick a different division from the dropdown located above.
Cada semana revisamos millones de partidas de League of Legends sacadas directamente de los servidores de Riot. Analizamos los datos usando tanto estadísticas convencionales como algoritmos avanzados de aprendizaje automático para obtener los counters de Gnar más precisos.
Guía para contrarrestar a

Gnar
La habilidad Furia de Gnar baja durante 15 segundos cuando cambia de grande a pequeño. Aprovecha esta oportunidad para enfrentarte al equipo enemigo.
El bumerang de Gnar ralentizará a la mayoría de los enemigos. También puede viajar muy lejos mientras se retira. En su forma mini, Gnar contrarresta a la mayoría de los campeones cuerpo a cuerpo. Es muy difícil perseguirlo.
Cuando Gnar se transforma en Mega Gnar y viceversa, gana un gran impulso de vida y luego se cura. Esto le da mucho sostén en el carril al impulsar activamente las transformaciones. Te será difícil vencer a Gnar a base de golpes.