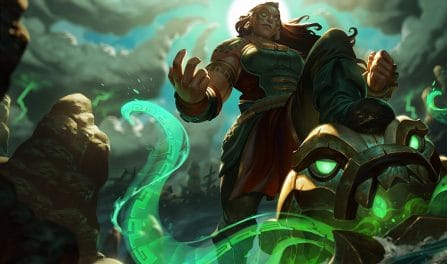 Las mejores runas, elementos y consejos para dominar a tu competencia
120,804 Illaoi Builds Analizadas
We calculated our Illaoi build guidance by analyzing 120.804 recently ranked League of Legends matches with her in them. We only propose the top winrate Illaoi builds that were used by ranked League players enough times for us to reccomend them. With so many games in our data, we are quite confident in our provided builds.
Additionally, to view the best Illaoi build from a different skill rank, you can choose a different skill tier from the dropdown above. The proposed Illaoi builds will change to reflect that division's meta.
Los mejores items para

Illaoi
The most critical items to incorporate into your champion's build include: Desgarrador divino,Calibrador de Sterak, and Rompecascos. Players who added these pieces in their gear had a much higher win rate than players who tried for other item builds for Illaoi.
Moreover, like our rune recommendations, you can also get quality, focused, Illaoi item builds a little further down for the particular enemy team comp you are playing in your current match.
Illaoi

Items para derrotar a los Comps de equipos enfocados
Las mejores runas para

Illaoi

Conquistador

Claridad mental

Leyenda: Presteza

Último esfuerzo

Sabor a sangre

Cazador voraz
If you are playing a mixed enemy team comp, you should strongly consider getting Illaoi the Precisión, and Dominación runes. In recent games, she won the largest percentage of her matches when built with these runes.
Although, if you are facing a more focused enemy team composition, such as an AD centric or a crowd control centric team, you should instead browse a little below to see the best Illaoi runes to defeat your particular set of opponents.
Illaoi

Runas para vencer a los equipos enemigos dedicados

Conquistador

Claridad mental

Leyenda: Tenacidad

Último esfuerzo

Revitalizar

Revestimiento de huesos
Guía para jugar con

Illaoi
Extender tus tentáculos por el mapa es una buena estrategia. A continuación, puedes utilizar Lección dura para ordenar a todos los tentáculos dentro del rango que ataquen a su objetivo.
Utiliza el Salto de Fe cuando haya varios enemigos cerca para que aparezca el máximo número de tentáculos. Esto puede cambiar drásticamente una pelea en equipo porque los tentáculos causan mucho daño.