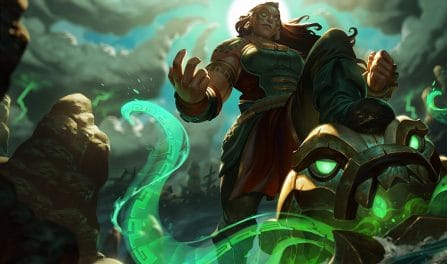 Los mejores campeones de LoL para sinergizar y contrarrestar a Illaoi
120,804 Illaoi Counters y emparejamientos analizados
To select the most and least advantageous counters for Illaoi, we evaluated the results of 120.804 recently played, ranked League of Legends matches. We found which champions have the best and worst win rates against her. Furthermore, we calculated those few that are exceptional companions and who could help stop you from being countered. Having analyzed so many games gives us lots of faith in our conclusions.
As can be seen above, Yorick is the best challenger for Illaoi with a 55.5% win fraction against her. In a close second and third place, Kayle and Mordekaiser are the next scariest counters to Illaoi. These two champs have win rates of 53.6% and 53.3%, respectively. You should avoid bringing her into a match where one of these other champs has already been picked.
Mejores counters de

Illaoi
Peores counters de

Illaoi
On the other hand, if you are playing against Renekton, you can expect to do much better. Illaoi counters them with a much higher win percentage of 57.3%. Equally, you can anticipate doing very well when battling Darius and Aatrox. They have the next lowest win rates when countering Illaoi.
If you are interested in the best champ pairings for your own allies to raise your victory rate even further, take a peek at at the Illaoi synergies below.
Regardless of her chosen position, she does very well when paired with Maestro Yi. This combination typically enhances her average win rate by a few percent. Brand and Zyra are also awesome champions to fight alongside.
To review the details and best Illaoi counter builds about a particular matchup, you can click the corresponding row in the tables above. If you are interested in some Illaoi counters that aren't shown here, you may click the "All Matchups" button to browse them.
Additionally, if you are looking to get Illaoi synergies and counters for a particular skill level, feel free to pick a specific division from the dropdown located above.
Cada semana revisamos millones de partidas de League of Legends sacadas directamente de los servidores de Riot. Analizamos los datos usando tanto estadísticas convencionales como algoritmos avanzados de aprendizaje automático para obtener los counters de Illaoi más precisos.
Guía para contrarrestar a

Illaoi
Destruye los tentáculos de Illaoi cuando sea seguro hacerlo, esto puede evitar daños más adelante cuando decidas enfrentarte.
Trata de no agruparte durante las peleas de equipo, ya que puede generar múltiples tentáculos si hace saltar la fe a varios campeones enemigos. En cierto modo, Illaoi contrarresta las peleas de equipo. :p