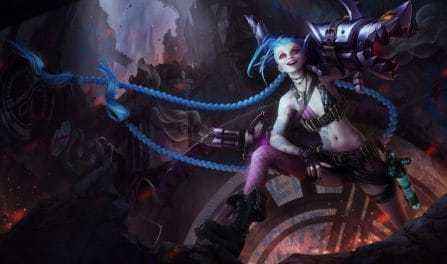 Los mejores campeones de LoL para sinergizar y contrarrestar a Jinx
137,521 Jinx Counters y emparejamientos analizados
To select the greatest and worst counters for Jinx, we checked the outcomes of 137,521 recently finished, ranked LoL rounds. We determined which champions have the best and worst win rates against her. Additionally, we extracted those select champs that are exceptional allies and who could help prevent your champ from being crushed. Having summarized so many games gives us a lot of faith in our Jinx counter stats.
As shown above, Ziggs is the best to challenge Jinx with a 54.0% win rate against her. Similarly, Brand and Nocturne are the next largest threats to Jinx. These two champs have win rates of 54.0% and 54.0%, respectively. You should not bring her into a game where one of these other champs has been picked.
On the other hand, if you're playing against Akshan, you should anticipate doing much better. Jinx counters them with a solid win percentage of 59.0%. Likewise, you can expect to do very well against Azir and Nidalee. These champs have the next poorest winrates when trying to counter Jinx.
If you are seeking the best champion pairings for your own teammates to enhance your winrate more, take a peek at at the champion synergies above. Regardless of her lane, she does admirably when paired with Nocturne. This pairing usually enhances her average win rate by 3.0%. Zyra and Yorick are also fantastic champions to team up with.
To review the details and best Jinx counter builds about a particular matchup, you should click the related row in one of the tables above. If you want some Jinx counters that are not listed here, you may click the "All Matchups" button to browse them.
Additionally, if you need to review Jinx synergies and counters for a particular skill level, please feel free to pick a different division from the dropdown above.
Cada semana revisamos millones de partidas de League of Legends sacadas directamente de los servidores de Riot. Analizamos los datos usando tanto estadísticas convencionales como algoritmos avanzados de aprendizaje automático para obtener los counters de Jinx más precisos.
Guía para contrarrestar a

Jinx
La habilidad definitiva de Jinx, ¡¡Supermegacohete requetemortal!!, puede lanzarse desde cualquier lugar, así que ten cuidado cuando tengas poca vida. Hace más daño cuanto más viaja.
Los Mascafuegos de Jinx son su principal escape, por lo que si está en enfriamiento o si ella lo falla, puedes atacar para un gank.