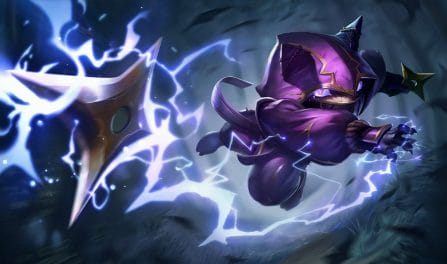 Las mejores runas, elementos y consejos para dominar a tu competencia
55,681 Kennen Builds Analizadas
Our Kennen builds come from our analysis of 55.681 recently ranked Kennen rounds. Only the highest winrate Kennen builds that are also in common use are recommended by us. Since we have so many games in our database, we are sure that we can show you the highest quality builds for n to help you win your next game!
Additionally, to see Kennen builds customized to a unique division, select a different division from the dropdown menu above. In that case, the ideal Kennen build given will be based on that tier's meta gameplay.
Los mejores items para

Kennen
The most important items to include in your champ's build are: Cintomisil hextech,Sombrero mortal de Rabadon, and Reloj de arena de Zhonya. Players who included these pieces in their gear had a better winrate than those who tried for other Kennen builds.
Yet, like our rune setups, you can also find quality, focused, Kennen item builds below for the particular enemy team setup you are fighting in your next game.
Kennen

Items para derrotar a los Comps de equipos enfocados
Las mejores runas para

Kennen

Invocar a Aery

Capa del nimbo

Concentración absoluta

Se avecina tormenta

Sabor a sangre

Cazador voraz
If you are facing a well-mixed enemy team arrangement, you should really consider grabbing him the Brujería, and Dominación runes. In recent games, he won the greatest number of his games when equipped with these runes.
Yet, if you are playing a singular enemy team composition, such as an AD heavy or a crowd control centric team, you should instead scroll further down to view the best Kennen runes to defeat your particular combination of foes.
Kennen

Runas para vencer a los equipos enemigos dedicados

Electrocutar

Sabor a sangre

Colección de globos oculares

Cazador voraz

Concentración absoluta

Se avecina tormenta
Guía para jugar con

Kennen
Marca de la tormenta aturde a un enemigo después de 3 marcas
Shuriken tronador inflige mucho daño para acosar al campeón de carril enemigo.
La Tempestad Cercenante, la habilidad definitiva de Kennen, es genial durante las peleas de equipo si puedes ponerte en medio de la formación enemiga. Proporciona daño AOE a su alrededor.