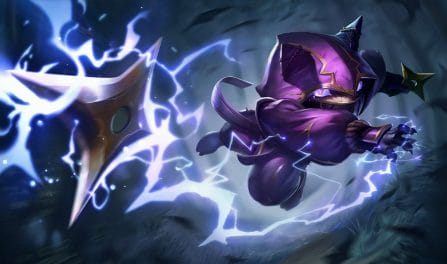 Los mejores campeones de LoL para sinergizar y contrarrestar a Kennen
39,937 Kennen Counters y emparejamientos analizados
Mejores counters de

Kennen
Peores counters de

Kennen
We computed our best and worst Kennen counters with info extract from 39,937 ranked LoL games. We have determined those champs with the highest and lowest rates of victory versus him. Furthermore, we found which champions can be valuable allies to to get more wins.
As can be seen above, Yorick is the best to challenge Kennen with a 55.0% win rate against him. Similarly, Amumu and Dr. Mundo are the next largest threats to Kennen. These two champs have win rates of 54.0% and 54.0%, respectively. You should avoid bringing him into a game where one of these champs has been chosen.
Conversely, if you're fighting Gwen, you should expect to do much better. Kennen counters them with a much higher win rate of 56.0%. Likewise, you should anticipate doing very well against Azir and Rengar. They have the next worst winrates against Kennen.
If you are seeking good champ synergies for your own comrades to help boost your winrate even further, look at the champ synergies above. Regardless of his lane, he does admirably when alonside Trundle. This combination typically enhances his chances of winning by 5.0%. Camille and Nocturne are also superb champs to fight alongside.
To examine the details and best Kennen counter builds about a particular matchup, you can click the corresponding row in the tables above. If you are interested in any Kennen counters that aren't shown here, you can click the button near the top of the page to view details on all potential counters.
To reduce the Kennen counters to one skill level only, select the desired skill level from the dropdown menu above. The given Kennen counters and synergies will be revised.
Cada semana revisamos millones de partidas de League of Legends sacadas directamente de los servidores de Riot. Analizamos los datos usando tanto estadísticas convencionales como algoritmos avanzados de aprendizaje automático para obtener los counters de Kennen más precisos.
Guía para contrarrestar a

Kennen
La definitiva de Kennen hace un gran daño AoE con un fuerte aturdimiento. Se destaca en las peleas de equipo y hace que sea un desafío luchar en espacios reducidos, como alrededor. Barón y Dragón. Kennen contrarresta a los campeones explosivos susceptibles de recibir CC.
Intenta no amontonarte durante las peleas de equipo porque Kennen puede meter a todo tu equipo en el AOE de Tempestad Cercenante si se mete en el medio.
Kennen es bastante débil y puede ser reventado rápidamente.