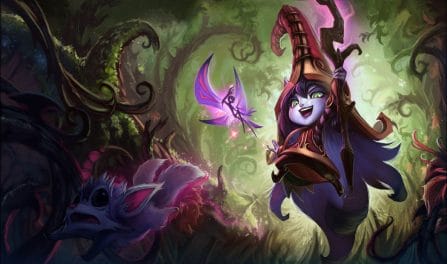 Los mejores campeones de LoL para sinergizar y contrarrestar a Lulu
279,962 Lulu Counters y emparejamientos analizados
To determine the best and worst counters for Lulu, we analyzed the results of 279.962 recently played, ranked League of Legends games. We found which champions have the greatest and poorest win rates against her. Additionally, we determined those select champs that are good allies and who could help prevent your champion from being crushed. Having examined so many games gives us a lot of faith in our Lulu counter stats.
As shown above, Sona is the strongest challenger for Lulu with a 53.9% win fraction against her. Close behind, Zyra and Brand are the next greatest counters to Lulu. These two have win rates of 53.1% and 52.7%, respectively. You should not bring her into a round where any of these other champions has already been selected.
Conversely, if you're facing off against Karma, you can anticipate doing much better. Lulu counters them with a much higher win rate of 51.3%. Equally, you should anticipate doing very well when battling Alistar and Nautilus. These champs have the next worst winrates versus Lulu.
If you are looking for good champion pairings for your own comrades to help boost your win percentage even further, glance at our Lulu synergies below.
Regardless of her chosen position, she does best when paired with Kog'Maw. This pairing typically raises her chances of winning by a few percent. Twitch and Nocturne are also awesome champions to pair with.
If you want to learn more about a specific Lulu counter, along with the most desirable builds to employ in that pairing, please click the corresponding row in the tables above. If the particular Lulu counters you are interested in aren't shown below, you may get all possible counters at the link above.
To limit the Lulu counters to one skill level only, choose your chosen ranked division from the dropdown above. The given champ counters and synergies will be revised.
Cada semana revisamos millones de partidas de League of Legends sacadas directamente de los servidores de Riot. Analizamos los datos usando tanto estadísticas convencionales como algoritmos avanzados de aprendizaje automático para obtener los counters de Lulu más precisos.
Guía para contrarrestar a

Lulu
Evite los ataques de las hadas escondiéndose detrás de los súbditos, esto disminuirá el daño recibido.
Como apoyo, Lulu contrarresta a la mayoría de los campeones cuerpo a cuerpo. Su definitiva puede usarse para derribar a cualquiera que se sumerja en su carry.
Intenta acosar a Lulu y evita divear cuando Lulu esté en el carril.