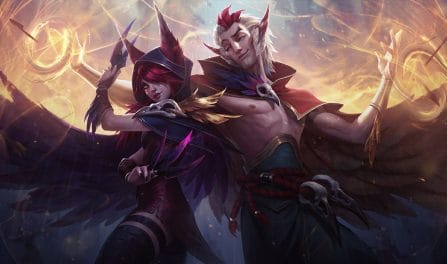 Las mejores runas, elementos y consejos para dominar a tu competencia
98,921 Rakan Builds Analizadas
Our Rakan builds result from our analysis of 98.921 recently ranked Rakan rounds. Only the highest win rate Rakan builds that are also commonly used are advised by us. Because we have so many rounds in our database, we are quite confident that we can produce high quality builds for a to help ensure you win your next match!
Additionally, Rakan builds dedicated to a unique skill division can be displayed by selecting another division from the dropdown menu found above. The recommended Rakan build shown will be focused on that tier's meta.
Los mejores items para

Rakan
The best items to use in your champion's build include: Canción de batalla de Shurelya,Incensario ardiente, and Baluarte de la montaña. Players who included these pieces in their gear had a greater win rate than players who tried for other item builds for Rakan.
Furthermore, similar to our rune recommendations, you can also get great, dedicated, Rakan item builds below for the particular enemy team comp you are facing in your current game.
Rakan

Items para derrotar a los Comps de equipos enfocados
Las mejores runas para

Rakan

Protector

Fuente de vida

Revestimiento de huesos

Inquebrantable

Capa del nimbo

Celeridad
If you are battling a mixed enemy team arrangement, you should really consider grabbing him the Valor, and Brujería runes. In recent games, he won the greatest percentage of his matches when built with these runes.
However, if you are facing a more single focused enemy team composition, such as an AP centric or a tank centric team, you should instead browse below to use the best Rakan runes to win your particular match.
Rakan

Runas para vencer a los equipos enemigos dedicados

Protector

Fuente de vida

Revestimiento de huesos

Revitalizar

Guardián zombi

Cazador incesante
Guía para jugar con

Rakan
Rakan es un gran apoyo, especialmente para curar y proteger a los aliados durante las peleas en equipo. Cíñete a tus aliados para participar.
Un potente combo en las peleas de equipo es Danza de batalla y Gran entrada