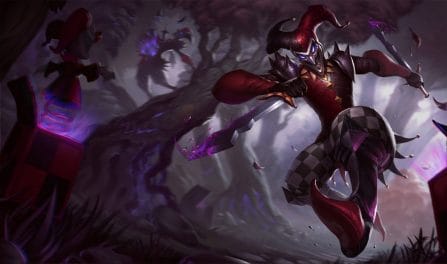 Las mejores runas, elementos y consejos para dominar a tu competencia
218,276 Shaco Builds Analizadas
Our Shaco builds result from our analysis of 218.276 recently ranked Shaco rounds. Only the best winrate Shaco builds that are also commonly used are recommended by us. Because we have so many rounds in our data, we are very sure that we can give you the best quality builds for o to help ensure you win your next match!
Additionally, to get Shaco builds dedicated to a particular skill level, choose a different rank from the dropdown menu found above. If you change the selection, the ideal Shaco build given will be based on that tier's meta gameplay.
Los mejores items para

Shaco
The most essential items to incorporate into your champion's build are: Desconsuelo de Liandry,Sombrero mortal de Rabadon, and Impulso cósmico. Those who included these items in their gear had a much higher win rate than players who used other item builds for Shaco.
Additionally, similar to our rune advice, you can also find great, dedicated, Shaco item builds just below for the specific enemy team setup you are fighting in your next match.
Shaco

Items para derrotar a los Comps de equipos enfocados
Las mejores runas para

Shaco

Cosecha oscura

Golpe bajo

Colección de globos oculares

Cazador incesante

Se avecina tormenta

Trascendencia
If you are playing a well-mixed enemy team comp, you should really consider grabbing him the Dominación, and Brujería runes. In recent matches, he won the largest number of his games when using these runes.
Although, if you are battling a more focused enemy team composition, such as an AD focused or a crowd control centric team, you should instead scroll a little down to get the best Shaco runes to defeat your particular enemy team.
Shaco

Runas para vencer a los equipos enemigos dedicados

Cosecha oscura

Golpe bajo

Colección de globos oculares

Cazador voraz

Trascendencia

Se avecina tormenta
Guía para jugar con

Shaco
Shaco es un excelente jungla gracias a la capacidad de tanquear de la Caja Sorpresa.
También puedes separar el empuje con Caja Sorpresa y Alucinación. Utiliza esto si tu equipo es capaz de manejar una pelea de equipo sin ti.