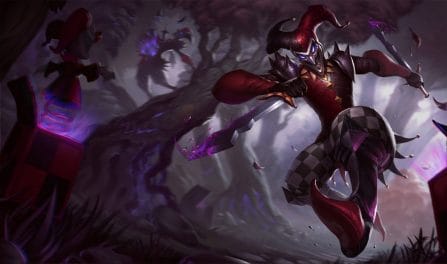 Los mejores campeones de LoL para sinergizar y contrarrestar a Shaco
218,276 Shaco Counters y emparejamientos analizados
We determined our best and worst Shaco counters using info extract from 218.276 ranked League rounds. We have worked out the champions with the best and worse rates of victory versus him. Furthermore, we calculated which champions can serve as great teammates to help you win more League games.
As you can see above, Xin Zhao is the strongest to challenge Shaco with a 51.9% win fraction against him. Close behind, Graves and Jarvan IV are the next greatest counters to Shaco. These two have win rates of 51.7% and 51.7%, respectively. You should not take him into a match where any of these champs has already been picked.
Mejores counters de

Shaco
Conversely, if you're facing off against Lee Sin, you should expect to do much better. Shaco counters them with a much higher win percentage of 52.9%. Equally, you can anticipate doing very well when fighting Evelynn and Kha'Zix. These champs have the next worst win rates versus Shaco.
If you would like good champion synergies for your own teammates to raise your win percentage even further, look at our champ synergies below.
Regardless of his lane, he does very well when paired with Nasus. This combination usually boosts his chances of winning by a few percent. Zyra and Xerath are also superb champs to fight alongside.
To see the details and best Shaco counter builds about a specific matchup, you should click the related row in the tables above. If you would like specific Shaco counters that aren't listed here, you may click the "All Matchups" button to see them.
To limit the Shaco counters to one skill level only, pick your chosen skill level from the dropdown above. The provided champion counters and pairings will be revised.
Cada semana revisamos millones de partidas de League of Legends sacadas directamente de los servidores de Riot. Analizamos los datos usando tanto estadísticas convencionales como algoritmos avanzados de aprendizaje automático para obtener los counters de Shaco más precisos.
Guía para contrarrestar a

Shaco
Si Shaco inicia una pelea de equipo con Engañar, no la tendrá para escapar, así que dale prioridad y elimínalo fácilmente.
Intenta entender cuándo y dónde usa Shaco su clon, para poder apuntar al verdadero Shaco y asegurarte una muerte.
Como apoyo, Shaco contrarresta a muchos campeones que necesitan posicionarse bien para ser efectivos, como Pyke o Blitzcrank. Puede utilizar su habilidad Caja Sorpresa para protegerse de las maniobras de flanqueo y controlar el posicionamiento de sus enemigos.
No ser visto es importante para Shaco. Su habilidad para aparecer sigilosamente significa que sus enemigos siempre deben estar desprevenidos. Si se le puede ver sin sigilo a lo largo del campo de batalla, se elimina la presión de los enemigos cercanos.