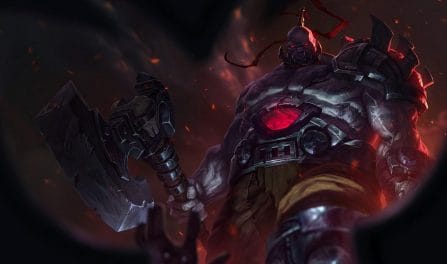 Las mejores runas, elementos y consejos para dominar a tu competencia
94,103 Sion Builds Analizadas
We came up with our Sion build recommendations by examining 94.103 recently ranked League rounds with him in them. We only propose the best winrate Sion builds that have been used by ranked LoL players enough times for us to advise them. With so many rounds in our data, we are quite confident in our recommended builds.
Additionally, to see Sion builds specific to a particular skill level, select a different division from the dropdown menu above. In that case, the recommended Sion build given will capture that division's meta gameplay.
Los mejores items para

Sion
The best items to use in your champ's build include: Égida de fuego solar,Rompecascos, and Hidra titánica. Players who included these items in their kits had a significantly better winrate than players who used other Sion builds.
Moreover, as with our rune advice, you can also get great, dedicated, Sion item builds a little further down for the particular enemy team setup you are fighting in your current game.
Sion

Items para derrotar a los Comps de equipos enfocados
Las mejores runas para

Sion

Garras del inmortal

Demoler

Condicionamiento

Sobrecrecimiento

Calzado mágico

Velocidad de acercamiento
If you are playing a well-mixed enemy team composition, you should really consider grabbing him the Valor, and Inspiración runes. In recent games, he won the greatest percentage of his rounds when using these runes.
Although, if you are facing a different enemy team composition, such as an AP centric or a tank centric team, you should instead browse further down to see the best Sion runes to defeat your particular combination of foes.
Sion

Runas para vencer a los equipos enemigos dedicados

Garras del inmortal

Demoler

Condicionamiento

Inquebrantable

Calzado mágico

Velocidad de acercamiento
Embestida imparable es una excelente manera de iniciar una pelea en equipo, ya que inflige daño y aturde a varios enemigos, pero estás restringido a una línea recta, así que asegúrate de poder aterrizar.
También puedes usar Embestida imparable para asegurarte de que Sion escape de batallas imposibles de ganar.
El mejor combo aquí es Rugido del Asesino para ralentizar a un enemigo, seguido de Impacto Aniquilador.