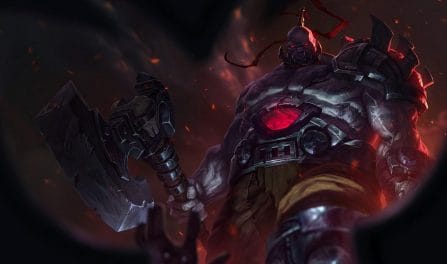 Los mejores campeones de LoL para sinergizar y contrarrestar a Sion
94,103 Sion Counters y emparejamientos analizados
To determine the most and least favorable counters for Sion, we checked the scores of 94.103 recently completed, ranked League of Legends games. We determined which champions have the greatest and poorest win rates versus him. Moreover, we found those few that are ideal allies and who could help stop your champ from being countered. Having checked so many matches leaves us with great confidence in our conclusions.
As can be seen above, Riven is the strongest to beat Sion with a 53.9% win rate against him. In a close second and third place, Aatrox and Irelia are the next scariest counters to Sion. They have win rates of 52.6% and 52.6%, respectively. You should avoid bringing him into a round where any of these champs has been picked.
On the other hand, if you are battling Teemo, you should expect to do much better. Sion counters them with a much better win percentage of 53.6%. Equally, you should anticipate doing very well when facing Malphite and Tahm Kench. They have the next lowest winrates versus Sion.
If you would like good champ pairings for your own allies to enhance your chances of winning even further, take a peek at at our Sion synergies.
Regardless of his chosen position, he does admirably when on the same team as Brand. This pairing typically raises his average win rate by a few percent. Maestro Yi and Zyra are also awesome champions to team up with.
To get the details and best Sion counter builds for a particular matchup, you should click the related row in the tables above. If you would like specific Sion counters that are not shown here, you may click the "All Matchups" button to browse them.
Additionally, if you are looking to review Sion synergies and counters for a particular division, feel free to select a specific division from the dropdown menu above.
Cada semana revisamos millones de partidas de League of Legends sacadas directamente de los servidores de Riot. Analizamos los datos usando tanto estadísticas convencionales como algoritmos avanzados de aprendizaje automático para obtener los counters de Sion más precisos.
Guía para contrarrestar a

Sion
Aléjate de Sion después de matarlo porque Gloria en la Muerte le permite hacer daño incluso después de muerto.
Impacto aniquilador inflige mucho daño, así que aléjate de él cuando lo esté cargando
Sion puede usar su Ult para enfrentarse o huir. Tiene poca escapatoria en la jungla, donde los giros son demasiado bruscos para escapar, pero en el carril, si su Ult está disponible, Sion es muy difícil de matar.
Con el gran derribo de AoE de Sion, éste contrarresta a muchos campeones de inmersión. Es difícil superarlo.