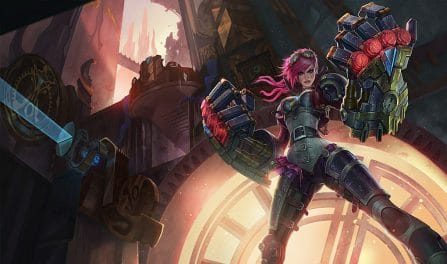 Los mejores campeones de LoL para sinergizar y contrarrestar a Vi
63,436 Vi Counters y emparejamientos analizados
We computed the best and worst Vi counters using stats extract from 63,436 ranked LoL games. We have figured out the champs with the best and worse rates of victory versus her. Furthermore, we have calculated which champions can serve as great allies to to get more wins.
As you can see above, Nocturne is the best to face off against Vi with a 52.0% win rate against her. In a close second and third place, Zyra and Brand are the next biggest threats to Vi. These two champs have win rates of 52.0% and 52.0%, respectively. You should not bring her into a round where one of these champs has been selected.
On the other hand, if you're facing off against Nidalee, you can expect to do much better. Vi counters them with a great win rate of 58.0%. Equally, you can expect to do very well when fighting Azir and Zoe. These champs have the next lowest winrates when trying to counter Vi.
If you are seeking the best champion pairings for your own allies to increase your winrate even further, take a look at our Vi synergies above. Regardless of her chosen position, she does admirably when alonside Zyra. This combination typically improves her chances of winning by 6.0%. Yorick and Swain are also great champs to team up with.
If you are looking to learn more about a particular Vi counter, together with the most desirable builds to employ in that pairing, please click the corresponding row in the tables above. If the specific Vi counters you are looking for aren't shown below, you can view all potential counters at the link above.
To reduce the Vi counters to a specific skill level only, select the desired ranked division from the dropdown above. The provided Vi counters and pairings will be revised.
Cada semana revisamos millones de partidas de League of Legends sacadas directamente de los servidores de Riot. Analizamos los datos usando tanto estadísticas convencionales como algoritmos avanzados de aprendizaje automático para obtener los counters de Vi más precisos.
Guía para contrarrestar a

Vi
Retrocede cuando veas a Vi cargando su Rompebóvedas.
No te metas en peleas prolongadas con Vi, ya que puede disminuir tu armadura con 3 golpes consecutivos.
Las habilidades de Vi le permiten divear a casi cualquier campeón. De este modo, Vi contrarresta a muchos carry a distancia que permanecen protegidos en la línea de fondo del enemigo. Sin embargo, ella misma es relativamente blanda. Mantente cerca de tus carries para ayudarlos a matarla si se sumerge.