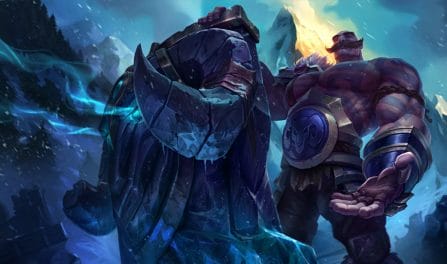 Os melhores Campões do LoL para sinergia e counterar Braum
34,564 counters e matchups com Braum analisados
We computed our best and worst Braum counters with data taken from 34,564 ranked LoL games. We have worked out the champions with the best and worse rates of victory against him. Furthermore, we have calculated which champions can be great teammates to help you win more League games.
As shown above, Viktor is the best counter to Braum with a 55.0% win fraction against him. Close behind, Illaoi and Zac are the next greatest threats to Braum. These two have win rates of 55.0% and 54.0%, respectively. You should not take him into a game where one of these champions has been picked.
Conversely, if you are battling Ryze, you can expect to do much better. Braum counters them with a much better win percentage of 57.0%. Similarly, you can expect to do very well when battling Nidalee and Azir. They have the next lowest win rates when countering Braum.
If you want great champion synergies for your own allies to raise your win rate more, take a look at our Braum synergies above. Regardless of his chosen position, he does very well when paired with Rakan. This combination usually increases his average win rate by 7.0%. Urgot and Soraka are also fantastic champions to fight alongside.
If you want to find out more about a specific Braum matchup, including the greatest builds to employ in that pairing, please click the corresponding row in the tables above. If the specific Braum counters you are interested in aren't visible below, you may see all potential counters at the above link.
Additionally, if you are looking to get Braum synergies and counters for a particular skill level, feel free to select a specific division from the dropdown menu above.
Nós processamos milhões de partidas de League of Legends, extraídas diretamente dos servidores da Riot semanalmente. Analisamos os dados usando algoritmos avançados para oferecer os counters de Braum mais precisos on-line.
Guia para counterar

Braum
Aprenda a atacar ao redor de Inquebrável de Braum para fazer com que o dano consiga ultrapassar.
Forçar o Braum a usar o Inquebrável prematuramente pode garantir que você tenha mais sucesso numa teamfight resultante.
Braum funcionar bem com ADCs que possuam alta velocidade de ataque. Juntos eles podem ativar sua passiva mais rapidamente.
Braum é forte contra campeões orientados diretamente por dano, como ADCs. Carries que fazem uso de dano em área que não passam primeiramente pelo seu escudo (como o cometa de Veigar) podem evitar a maioria da proteção de Braum.