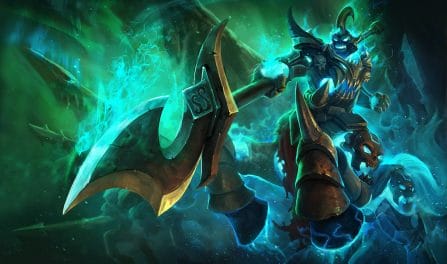 Os melhores Campões do LoL para sinergia e counterar Hecarim
65,523 counters e matchups com Hecarim analisados
To determine the greatest and worst counters for Hecarim, we analyzed the scores of 65,523 recently finished, ranked League games. We found which champions have the best and worst win rates versus him. Furthermore, we found those few that are adept allies and who could help prevent him from being countered. Having checked so many games leaves us with a lot of certainty in our Hecarim counter stats.
As can be seen above, Trundle is the best challenger for Hecarim with a 54.0% win fraction against him. Close behind, Nocturne and Kayle are the next largest threats to Hecarim. These two have win rates of 53.0% and 53.0%, respectively. You should avoid bringing him into a game where one of these champions has been chosen.
Conversely, if you are playing against Nidalee, you can anticipate doing much better. Hecarim counters them with a much higher win rate of 56.0%. Likewise, you should anticipate doing very well when battling Azir and Gangplank. These champs have the next worst winrates against Hecarim.
If you would like good champion pairings for your own comrades to help boost your win rate more, glance at the champ synergies above. Regardless of his lane, he does best when on the same team as Zilean. This pairing usually enhances his average win rate by 4.0%. Karthus and Wukong are also awesome champions to team up with.
To get the details and best Hecarim counter builds for a specific matchup, you can click the corresponding row in the tables above. If you are interested in specific Hecarim counters that are not shown here, you can click the "All Matchups" button to view details on all potential counters.
To filter the Hecarim counters to one ranked division only, choose the desired skill level from the dropdown menu above. The provided Hecarim counters and synergies will be revised.
Nós processamos milhões de partidas de League of Legends, extraídas diretamente dos servidores da Riot semanalmente. Analisamos os dados usando algoritmos avançados para oferecer os counters de Hecarim mais precisos on-line.
Guia para counterar

Hecarim
Não se agrupe quando ver que Hecarim está se preparando para usar Massacre das Sombras.
Hecarim é franco quando ele não tem alta velocidade de movimento, então foque nessa fraqueza no início do jogo e seja agressivo.
Hecarim é forte contra jogadores com pouca visão ou campeões com baixa mobilidade. Não se extenda demais quando ele puder estar por perto.
Você pode neutralizar Hecarim reduzindo sua velocidade de moviemento. Exaustão é uma ótima habilidade para neutralizá-lo.