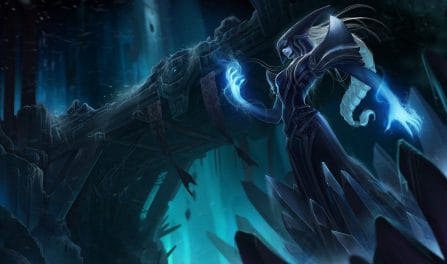 As melhores runas, itens e dicas para dominar seus inimigos
30,033 builds de Lissandra analisadas
Melhores itens para build de

Lissandra
The most critical items to incorporate into your Lissandra build include: Liandry's Anguish, Rabadon's Deathcap, Morellonomicon, and Demonic Embrace. Moreover, similar to our rune builds, you can also find great, focused, Lissandra item builds further down for the specific enemy team composition you are fighting in your current match. Those who added these items in their kits had a better win rate than those who used other builds for Lissandra.
Lissandra

Items para derrotar composições de time específicas
Melhores runas para

Lissandra

Eletrocutar

Gosto de Sangue

Globos Oculares

Caça Suprema

Faixa de Fluxo de Mana

Caminhar Sobre as Águas
If you are playing a varied enemy team composition, you should really consider grabbing yourself the Electrocute, Taste of Blood, Eyeball Collection, Ultimate Hunter, Manaflow Band, and Waterwalking runes. In recent games, she won the greatest fraction of her games when equiped with these runes. However, if you are battling a different enemy team composition, such as an AP centric or a CC focused team, you should instead look below to use the best Lissandra runes to win your particular round.
Lissandra

Runas para derrotar formações de time específicas

Cometa Arcano

Faixa de Fluxo de Mana

Transcendência

Chamuscar

Golpe Desleal

Caça Voraz
Guia para jogar com

Lissandra
Estilhaço de Gelo é uma boa ferramenta para perturbar campeões inimigos em lane e também ajuda Lissandra a farmar minions.
Um bom combo de iniciação é usar Caminho Glacial para se aproximar de carries inimigos, seguido por Túmulo Congelado para isolá-los da teamfight, e então Círculo Ártico e Estilhaço de Gelo para causar dano.
Our Lissandra builds come from our evaluation of 30,033 recently ranked Lissandra matches. Only the top win rate Lissandra builds that are also in common use are suggested by us. Since we have so many matches in our dataset, we are absolutelysure that we can provide the highest quality builds for Lissandra to help ensure you win your next round!
Additionally, to view Lissandra builds specific to a unique division, pick a different rank from the dropdown menu located above. In that case, the proposed Lissandra build given will reflect that tier's meta game.