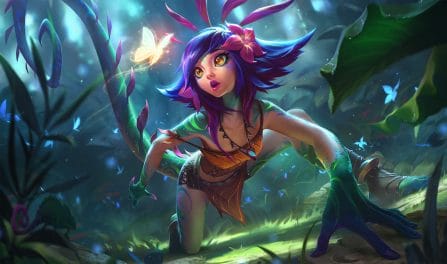 Estatísticas de Campeão e detalhamento de metagame do LoL
59,630 partidas com Neeko analisadas
To generate these Neeko stats, we analyzed 59,630 recent ranked LoL rounds with her chosen. MOBA Champion pulls ranked game summaries directly from Riot's servers. This gives us great confidence in our Neeko statistics. Across all games, Neeko did do very well, with an average win rate of 50.0%.
In the current meta, Neeko is not very popular. She has been played in only 2.0% of recently ranked games. Hardly anyone sees her as a threat. She has only been banned in about 0.4% of League of Legends matches.
If you are looking for a dominating carry, then you should maybe consider this champ. She has the 25th highest kill rate on the Rift amongst all mids. (34 total champions are usually picked for the mid position.) Additionally, she has a fairly typical average death count (6 deaths; 21st out of all mids). Moreover, Neeko has an average KDA ratio (2.2) with 7 assists (8th amongst all mid type champions).
Taxa de vitória de

Neeko

periodicamente
Our calculated overall Neeko win rate is the 12th best out of all mids. She is most dominant in the early phase of the game with a 50.9% win rate in that stage. In contrast, she has a 48.6% win rate in the late phase and a 50.0% winrate overall. There is only a small difference between these Neeko win rates (2.3%). This small difference indicates that her power is flat during a whole round.
Estatísticas de posição de

Neeko
Neeko

Estatísticas e meta
Neeko is played mostly in the mid position. This occurs in 66% of her games. Mid Neeko also has the highest win rate (50.7%) of all positions. At this time, Neeko's meta game is focused on dealing damage. Specifically, her build should primarily be focused on magical damage. Furthermore, she is a decent support champion. Dealing physical damage is the least critical part of Neeko's build.
If you are not comfortable with Neeko's abilities and tactics, you may find it difficult picking her up for the first time. Many competitors consider her to not be a difficult champ to learn. Neeko primarily causes magical damage (87% of her total damage). She doesn't deal a large amount of physical damage and should not be considered a hybrid damage dealer.
Neeko deals a decent amount of damage during a typical match (17,307 damage). You may want to focus on building her as a damage dealing champion to destroy your foes.
Estatísticas base de

Neeko
Resistência mágica
30 - 38.5
Hailing from a long lost tribe of vastaya, Neeko can blend into any crowd by borrowing the appearances of others, even absorbing something of their emotional state to tell friend from foe in an instant. No one is ever sure where—or who—Neeko might be...
Analisamos milhões de partidas do League of Legends extraídas diretamente dos servidores da Riot semanalmente e processamos os dados usando algoritmos avançados para oferecer as estatísticas mais precisas de Neeko on-line. Os dados são analisados por tier, de modo que você possa encontrar as taxas de vitória e outras estatísticas mais relevantes de Neeko.