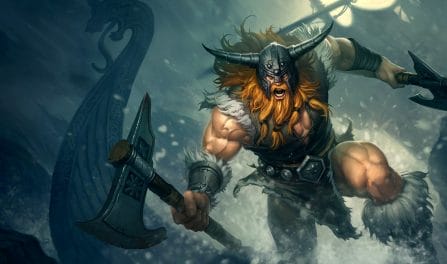 As melhores runas, itens e dicas para dominar seus inimigos
36,222 builds de Olaf analisadas
Melhores itens para build de

Olaf
The most critical items to use in your Olaf build are: Goredrinker, Guardian Angel, Sterak's Gage, and Wit's End. Additionally, like our rune suggestions, you can also get quality, dedicated, Olaf item builds farther down for the specific enemy team composition you are battling in your ongoing match. Those who included these pieces in their setups had a much higher win rate than those who went for other Olaf builds.
Olaf

Items para derrotar composições de time específicas

Conquistador

Triunfo

Lenda: Espontaneidade

Até a Morte

Revitalizar

Condicionamento
If you are trying to beat a varied enemy team comp, you should really consider grabbing him the Conqueror, Triumph, Legend: Alacrity, Last Stand, Revitalize, and Conditioning runes. In recent matches, he won the largest percentage of his matches when equiped with these runes. Yet, if you are facing a different enemy team comp, such as an AD focused or a crowd control centric team, you should instead scrollbrowse below to find the best Olaf runes to defeat your particular set of opponents.
Olaf

Runas para derrotar formações de time específicas

Conquistador

Triunfo

Lenda: Espontaneidade

Até a Morte

Mercado do Futuro

Velocidade de Aproximação
Olaf pode criar um snowball se ele farmar efetivamente no early game. Certifique-se de priorizar o farm se seu time estiver a frente.
Olaf ganha bônus de velocidade de ataque, e vida broubo e de cura de feridas dolorosas então se mantenha firme após ativá-lo.
We established our Olaf build suggestions by analyzing 36,222 recently ranked League games with him selected. We only propose the highest winrate Olaf builds that have been used by ranked players enough times for us to propose them. With so many rounds in our dataset, we are very confident in our provided builds.
Additionally, to see the best Olaf build for a different skill level, please choose a different one from the dropdown menu above. The ideal Olaf builds will update to capture that skill level's meta.