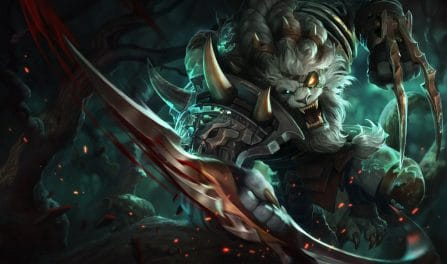 Os melhores Campões do LoL para sinergia e counterar Rengar
63,177 counters e matchups com Rengar analisados
To select the most and least favorable counters for Rengar, we studied the outcomes of 63,177 recently played, ranked League of Legends games. We found which champs have the highest and lowest win rates against him. Moreover, we calculated those few that are solid teammates and who could help stop you from being crushed. Having reviewed so many games leaves us with a lot of certainty in our conclusions.
As shown above, Rammus is the strongest counter to Rengar with a 57.0% victory percentage against him. In a close second and third place, Xin Zhao and Trundle are the next largest threats to Rengar. These two have win rates of 57.0% and 57.0%, respectively. You should avoid bringing him into a game where any of these champions has already been picked.
On the other hand, if you're fighting against Taliyah, you can expect to do much better. Rengar counters them with a very respectable win rate of 54.0%. Likewise, you should anticipate doing very well when fighting Azir and Gangplank. These champs have the next poorest win rates versus Rengar.
If you are looking for great champion synergies for your own allies to increase your win percentage more, take a peek at at the champ synergies above. Regardless of his lane, he does very well when paired with Viktor. This combination usually raises his average win rate by 2.0%. Rammus and Ziggs are also great champs to pair with.
If you are looking to find out more about a particular Rengar counter, together with the greatest builds to employ in that situation, please click the related row in the tables above. If the specific Rengar counters you are looking for aren't shown below, you can get all potential counters at the link above.
To restrict the Rengar counters to one ranked division only, select your chosen ranked division from the dropdown above. The given Rengar counters and synergies will be revised.
Nós processamos milhões de partidas de League of Legends, extraídas diretamente dos servidores da Riot semanalmente. Analisamos os dados usando algoritmos avançados para oferecer os counters de Rengar mais precisos on-line.
Guia para counterar

Rengar
Devido ao Furor da Caçadas de Rengar, você precida ser cuidadoso para proteger seus suportes e não ficar sozinho com baixo HP.
Rengar é forte contra quase todos os carries frágeis. Tanques e campeões de controles de grupo devem ficar perto dos carries para os protegê-los.