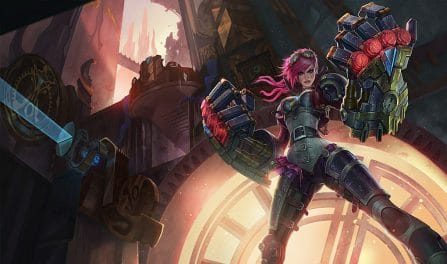 As melhores runas, itens e dicas para dominar seus inimigos
63,436 builds de Vi analisadas
Melhores itens para build de

Vi
The best items to use in your Vi build include: Deicide, Guardian Angel, Sterak's Gage, and Black Cleaver. Moreover, similar to our rune advice, you can also get great, dedicated, Vi item builds below for the specific enemy team composition you are facing in your current game. Those who included these items in their builds had a much better winrate than players who worked towards other builds for Vi.
Vi

Items para derrotar composições de time específicas

Chuva de Lâminas

Impacto Repentino

Globos Oculares

Caça Voraz

Manto de Nimbus

Caminhar Sobre as Águas
If you are playing a mixed enemy team composition, you should really consider grabbing her the Hail of Blades, Sudden Impact, Eyeball Collection, Ravenous Hunter, Nimbus Cloak, and Waterwalking runes. In recent matches, she won the greatest fraction of her matches when equiped with these runes. However, if you are fighting a more homogenous enemy team composition, such as an AP centric or a tank focused team, you should instead look further down to view the best Vi runes to win your particular round.
Vi

Runas para derrotar formações de time específicas

Pós-choque

Golpe de Escudo

Condicionamento

Inabalável

Triunfo

Lenda: Espontaneidade
Carregue por completo o Quebra-cofre para causar o dano máximo. Contudo, se tudo que precisa fazer é interromper ou usar CC em seu inimigo, você pode soltá-lo mais cedo.
Vi é um ótimo campeão de engage. Contudo, não fique se achando e dê um dive na black line inimga sem assistência.
Use Saque e Enterrada para iniciar teamfights e garanta que seu time esteja por perto.
We set our Vi build recommendations by analyzing 63,436 recently ranked League of Legends matches with her selected. We only propose the highest winrate Vi builds that were used by ranked gamers enough times for us to advise them. With so many rounds in our dataset, we are quite confident in our suggested builds.
Additionally, to see Vi builds specific to a particular skill level, choose a different rank from the dropdown menu located above. If you change the selection, the ideal Vi build given will be based on that division's meta.