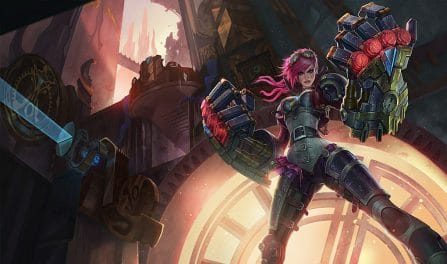 Os melhores Campões do LoL para sinergia e counterar Vi
62,275 counters e matchups com Vi analisados
To select the most and least favorable counters for Vi, we studied the outcomes of 62,275 recently played, ranked League rounds. We determined which champions have the best and worst win rates versus her. Additionally, we found those select champions that are exceptional teammates and who could help prevent you from being countered. Having reviewed so many rounds leaves us with great faith in our conclusions.
As you can see above, Zyra is the strongest challenger for Vi with a 53.0% victory rate against her. Close behind, Nocturne and Kled are the next scariest threats to Vi. They have win rates of 53.0% and 53.0%, respectively. You should not bring her into a round where one of these other champs has already been selected.
On the other hand, if you're facing off against Azir, you probably should expect to do much better. Vi counters them with a solid win percentage of 58.0%. Similarly, you should anticipate doing very well against Nidalee and Tahm Kench. These champs have the next worst win rates versus Vi.
If you would like great champion synergies for your own teammates to increase your winrate even further, take a look at the champ synergies above. Regardless of her lane, she does admirably when paired with Zyra. This combination usually enhances her average win rate by 6.0%. Zilean and Nasus are also great champs to team up with.
If you would like to learn more about a specific Vi matchup, along with the most desirable builds to use in that situation, please click the related row in the tables above. If the specific Vi counters you are interested in are not shown below, you may get all possible counters at the link above.
To see Vi pairings and counters from a particular division rank, you can use the dropdown menu above to limit the counters shown.
Nós processamos milhões de partidas de League of Legends, extraídas diretamente dos servidores da Riot semanalmente. Analisamos os dados usando algoritmos avançados para oferecer os counters de Vi mais precisos on-line.
Recua quando ver Vi carregando seu Quebra-cofres.
Não siga em frente em lutas prolongadas já que Vi pode diminuir sua armadura com 3 hits consecutivos.
As habilidades de Vi a permitem dar um dive em basicamente qualquer campeão. Portanto, Vi é forte contra váriols carries de longa distância que ficam protegidos na blackline inimiga. Contudo, ela mesma é relativamente frágil. Mantenha-se perto de seus carries para ajudá-los a matar Vi caso ela dê um dive.